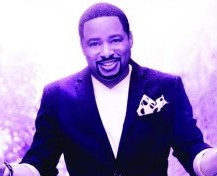 Grammy Award winner SMOKIE NORFUL begins a week of appearances and performances as part of a full-scale promotional tour for his new album FOREVER YOURS. 
Norful, best known for his award-winning, crossover hit "I Need You Now," returns with FOREVER YOURS, his first all-new studio album in 8 years. FOREVER YOURS offers great versatility which is a clear result of working with a number of talented and accomplished producers including Tony Dixon, Derek D.O.A. Allen, Aaron Lindsey, Elvis Williams (Blac Elvis) and Warryn Campbell.  From ballads (the strongest weapon in Norful's arsenal) to contemporary and pop-styled songs to upbeat praise and worship, FOREVER YOURS has something for everyone.
Currently his Top 10 single "No Greater Love," is rising on the Gospel chart and his recent performances of new songs "Imperfect Me" and "I Need A Word," have been touching listeners around the country.
Smokie will celebrate the release of the project with an "Evening with Smokie Norful."  The hometown concert and exclusive conversation will take place at his church, Victory Cathedral Worship Center, located at 369 N. Weber Road, Bolingbrook IL 60490, on Friday August 1st.  Doors open at 6pmand the event starts promptly at 7pm.   Admission is free with the purchase of FOREVER YOURS.
He'll then head to Washington DC, New York City, Atlanta and Memphis for several more appearances. Check out the schedule below for more information go to www.smokienorful.com
Smokie on the Road:
Praise in the Park @ Centennial Olympic Park
265 Park Ave. W Northwest, Atlanta GA 30313
Saturday 8/2/14 11am
Smokie Norful Appearance @ WalMart
8745 Branch Ave., Clinton MD 20735
Tuesday 8/5/14 6pm
Smokie Norful Exclusive Concert For St. Jude Children's Hospital
Memphis TN
Wednesday 8/6/14 12noon
Smokie Norful concert @ Greater Allen Cathedral
11031 Merrick Blvd, Jamaica NY 11433
Friday 8/8/14 7pm
Motown Gospel Revue @ Central Park Summerstage
Central Park, New York NY
Saturday 8/9/14 3pm