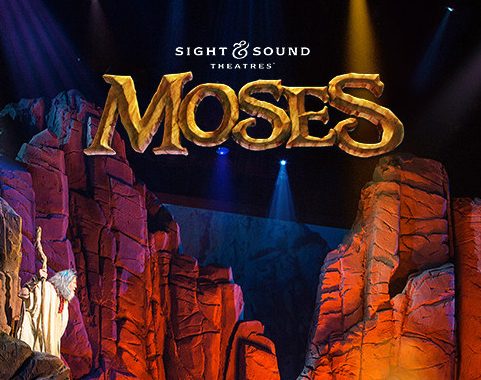 One of the most iconic Bible adventures is coming to life in movie theaters nationwide following its debut on the Sight & Sound stage. "Sight & Sound Theatres® Presents: MOSES" will entertain cinema audiences of all ages this fall, including a behind-the-scenes look at the amazing history of Sight & Sound Theatres®, their locations, and stage shows seen by more than 23 million visitors.
Tickets for "Sight & Sound Theatres® Presents: MOSES" can be purchased at www.FathomEvents.com and participating theater box offices.
Fathom Events and Sight & Sound present "Sight & Sound Theatres® Presents: MOSES" in more than 800 select movie theaters on Thursday, September 13 at 6:30 p.m. and Saturday, September 15 at 12:55 p.m. (all local times). For a complete list of theater locations, visit the Fathom Events website (theaters and participants are subject to change).
Filmed in front of a live audience at Sight & Sound Theatres®, "MOSES" is an original stage production experienced by nearly 2 million people. Set adrift as a baby and now wandering in the wilderness, Moses is one unlikely hero until God calls him into action. From the Nile River to the Red Sea, journey with Moses as he leads the chosen people on an amazing adventure toward the Promised Land.
"This high-quality production of 'MOSES' will be a thrilling experience for attendees of all ages," Fathom Events CEO Ray Nutt said. "We are excited to bring another Sight & Sound event to movie theaters that displays the unique multi-dimensional detail put into their titles."
About Fathom Events
Fathom Events is the leading event cinema distributor with participating theaters in all 100 of the top Designated Market Areas®, and ranks as one of the largest overall distributors of content to movie theaters. Owned by AMC Entertainment Inc. (NYSE: AMC), Cinemark Holdings, Inc. (NYSE: CNK) and Regal Entertainment Group (NYSE: RGC) (known collectively as AC JV, LLC), Fathom Events offers a variety of one-of-a-kind entertainment events in theaters such as live performances of the Metropolitan Opera, top stage productions including Newsies! The Broadway Musical and George Takei's Allegiance, major sporting events such as Mayweather vs. McGregor, epic concerts with artists like Lady Antebellum and Sammy Hagar, the yearlong TCM Big Screen Classics series, inspirational events such as Is Genesis History? and IN OUR HANDS: The Battle for Jerusalem, and popular anime franchises like Pokémon and Dragon Ball Z. Fathom Events takes audiences behind the scenes for unique extras including audience Q&As, backstage footage and interviews with cast and crew, creating the ultimate VIP experience. Fathom Events' live digital broadcast network ("DBN") is the largest cinema broadcast network in North America, bringing live and pre-recorded events to 917 locations and 1,440 screens in 181 DMAs. For more information, visit www.fathomevents.com.
About Sight & Sound
Sight & Sound Theatres began more than 40 years ago in rural Pennsylvania, where a dairy farmer went from producing milk to producing live entertainment with a purpose. Today that vision has expanded to two state-of-the art theaters in Lancaster, PA, and Branson, MO, where stories from the Bible come to life on stage. Each production features Sight & Sound's signature massive sets, special effects and live animals. Still family-owned, Sight & Sound's nearly 650 staff members write, produce, design and build the original shows, drawing nearly 1.5 million audience members each year.