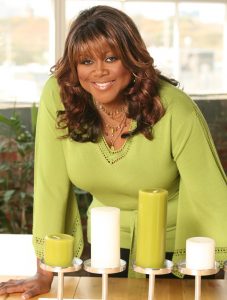 Veteran R&B star Shirley Murdock is bringing her soulful swagger to Charlotte for a  career milestone. The seasoned singer will stage "The Journey,"  her first ever live CD/DVD recording on Thursday, April 28th @ 7:00 p.m. at the Broadcast Group Complex. She's also bringing some of R&B music's most renowned divas together to help make the night memorable. Kelly Price, Regina Belle and Beverly Crawford will each share the stage with Murdock at some point during the uplifting evening of  inspirational music.
So, why Charlotte? "Charlotte was chosen because my producer, Cedric Thompson, whom I've had the pleasure of working with on my  `Home' some years ago, lives in Charlotte," says Murdock. "This gives him access to the wonderful musicians and singers in that area, not to mention the beautiful  venue we'll be ministering, recording and filming in. I'm so excited. I've been receiving beautiful photos and updates for the set design, wardrobe, etc. It's going to be a great night that I hope people cherish for years to come."
A native of Toledo, OH; Murdock began her career as a background singer Roger Troutman's group, Zapp. Eventually, Troutman started recording Murdock as a soloist circa 1984 and their work led to her signing with Elektra Records where she enjoyed Top Ten R&B hits such as "In Your Eyes," "Husband," "Go On Without You" and her gold-selling smash, "As We Lay." In 2002, she recorded her first gospel CD "Home" for Bishop T.D. Jakes' Dexterity Records label and followed up five years later with the Top Ten CD, "Soulfood."
ver the years, Murdock has consistently worked as an actress in between CD projects.  She's starred in touring stage productions such as Je'Caryous Johnson's "3 Ways to Get a Husband" and in John Ruffin's popular favorites "Love Me or Leave Me" and "The Ideal Husband.." The concert takes place Thursday, April 28th @ 7:00 p.m.  at The Broadcast Group Complex is located at 8400 Regent Parkway (formerly 1400 Convention Dr.) in Fort Mill, SC 29715. Tickets are $15 in advance and $20 at the door. Visit www.tyscot.com for more news and updates.