The new project presents prime opportunity to work with long-time friends-Beverly Crawford, Kelly Price and Regina Belle.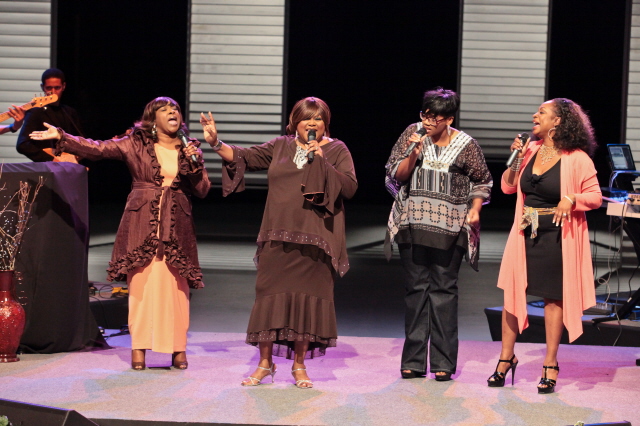 Most music fans would assume that Shirley Murdock only collaborated with Regina Belle, Kelly Price and Beverly Crawford on her project "The Journey" because of their musical styles and phenomenal success. Yes it's true that each singer contributed her own unique style to the project, but according to Shirley there is more to this story.
So, why did Shirley handpick Regina Belle, Kelly Price and Beverly Crawford?
Murdock recently shared that her decision was not just made based on music alone.  It was the realization of the three special friendships she has built with them over the years. Murdock spoke openly about how she came to know and love Regina, Kelly and Beverly.
Regina Belle
"I've known Regina for over 20 years!  We met in Florida, back in the day, when she was singing with the Manhattans. We had a kinship, a connection; two Christians in mainstream and we understood the challenges and the need for encouragement & accountability.  We've been there for each other through thick and thin. We both experienced, being single to becoming wives, mothers, answering our calls to the ministry and kids going to college."
Kelly Price
"Kelly is the little sister I never had and like Regina, we connected in the spirit.  Although we all worked in the mainstream arena, we knew who and whose we were.
Kelly and I met over 10 years ago at Bishop T.D. Jakes' Woman Thou Art Loosed Conference, where she told me she was a huge fan. She did an awesome cover of one of my biggest hits, As We Lay and invited me to be in the video. It was at the video shoot, that I told her I was leaving mainstream and was passing the baton to her to continue to represent the kingdom in my absence. We remained friends and somehow regardless of our busy schedules, continue to find a way to keep up with each other.
Last fall, both of our sons began college and we encouraged each other thru the separation anxiety.  Also, from time to time, to the delight of our audiences; we make surprise guest appearances with one another."
Beverly Crawford
"I've known Beverly Crawford for over 10 years as well. She is one of the sweetest sista-girls you'd ever want to meet!
When Bishop T.D. Jakes re-introduced me to the gospel industry, Beverly and I were label mates. She welcomed, embraced and encouraged me during my transition, when others did not and I love her for that. Beverly Crawford is a consistent woman who is solid and full of FIRE!"
These special ladies have been a part of my journey and it meant the world to me for them be a part of that wonderful night. I believe the audience as well as those who will listen to the "live" CD and watch the DVD, will be able to hear, see and feel the friendship and admiration we share for one another, as well as the joy of singing God's praises together!
On October 18th, fans can look forward to hearing Regina Belle on the jazzy song "Upward Way", Beverly Crawford on the foot-stomping, "He Is the Rock" and Kelly Price on the heartfelt track "Lovin Me" on The Journey live CD and DVD.
For More Info on Shirley Murdock please visit: www.tyscot.com.