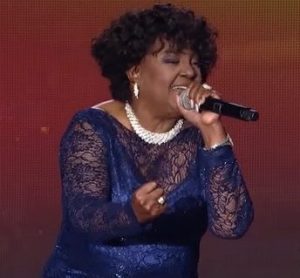 Before Pastor Shirley Caesar broke the internet with a viral video of her singing, "Hold My Mule" that was remixed into a hilarious Thanksgiving tribute called the "You Name It Challenge," she was honored with a Lifetime Achievement Award at the Allstate Gospel Superfest: A Holiday Special, which premieres Sunday, Nov. 20 at 7/6 c on TV One.
"I am proud that the Allstate Gospel Superfest will pay tribute to the first lady of gospel music, Pastor Shirley Caesar," said Allstate representative Pastor Provey Powell, Jr. "The Book of Proverbs 18:16 reminds us that your gift will make room for you and Pastor Shirley's talents and gifts have made room for her all around the world with a career expanding over six decades."
The two-hour special, hosted by Vivica A. Fox, features gospel stars honoring Caesar through song.
J MOSS, Jonathan Butler, Tim Bowman Jr., Casey J, Dorinda Clark-Cole, Beverly Crawford, JJ Hairston & Youthful Praise, James Hall & Worship and Praise, Lonnie Hunter featuring Structure, Patrick Lundy & Ministers of Music, Jonathan McReynolds, Karen Clark-Sheard, and Alexis Spight, are set to pay tribute.
Watch a preview of Caesar singing "You're Next in Line For A Miracle":
SOURCE: eurweb.com