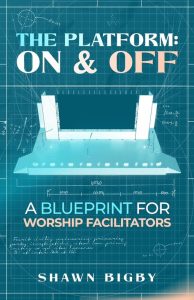 Shawn Bigby's desire is for others to experience God at higher and deeper levels of worship.  Shawn is the Creative Arts Director at Right Direction Church International in Columbia, SC.  He is a songwriter, a recording artist, a worship leader, and a clinician who "…transforms a room into an atmosphere made conducive for true worship," says Grammy® Award-winning producer Cedric Thompson.
Shawn has many years of experience and an unwavering passion and anointing for music ministry.  Shawn has now written a book to connect the worshipper further to embrace the raw presence of God through the Word and theologically based music.  THE PLATFORM: ON & OFF – A Blueprint For Worship Facilitators is an informative and compelling book for worship leaders, pastors, choir members, praise teams, and musicians.
In his book, Shawn defines what worship is as well as what it is not.  He provides practical ways to engage the people you serve and share reasons why some may display apprehension.  The Platform: On & Off – A Blueprint for Worship Facilitators encourages self-examination and provides opportunities to build and expand your leadership muscles as you lead others into the presence of God.   At the end of each chapter, there is opportunity to "Map the Blueprint" by considering the plans and strategies to facilitate the worship culture of your house, also leverage the questions for excavation of self to discover ways you can go deeper both on and off the platform.
"Shawn is an incredible and proven voice to this generation," says Justin Savage, Award-winning producer and music director – The Potter's House, Dallas, TX.  "In this instance, you can safely judge the book by its cover, as it fits perfectly.  The reader is guaranteed to come away with valuable tools and information to help them carry out their assignment."
THE PLATFORM: ON & OFF – A Blueprint For Worship Facilitators is available now at ShawnBigby.com and online at Amazon, Apple iBooks, and Barnes and Noble.  Follow and connect with Shawn on Facebook and social media to discover ways you can go deeper in worship both on and off the platform.