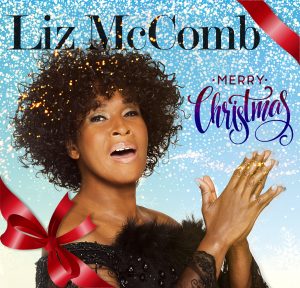 Legendary Roots singer and pianist, Liz McComb, has been thrilling audiences throughout the world, and France in particular, for the last forty years with her unique fusion of Jazz and Blues-inspired gospel music. She's even shared stages with Andrea Boccelli, The Blind Boys of Alabama and B.B. King but, at her core, she's still the Cleveland, Ohio church girl who grew up loving the Christmas season and dreaming of recording a holiday album. Five decades later, the dream has finally been realized with, "Merry Christmas" (GVE/CE Music: SLRP $9.99), which released on all major digital platforms in the United States and Canada on November 24th. The physical album bows December 1st – McComb's birthday.
On the 13-track collection, McComb imbues the project with a nakedly acoustic aura that's permeates piano-based cuts such as Nat King Cole's "The Christmas Song," as well as, the guitar-centered ones such as a redo of Jose Feliciano's "Feliz Navidad." The set includes bluesy spirituals such as "Walk in the Light," a feverish "Joy to the World" and a playful carol, "We Wish You A Merry Christmas." In a recent Downbeat magazine article, Frank John Hadley hailed McComb "a wonder" and writes that, "Liz McComb sings the carols and spirituals…with a conviction rooted in her experience growing up in an African-American church… Her supple, limber voice conveys not only religious devotion but also the more secular warmth of the season."
McComb has sung in churches since the age of three. After singing with the Daughters of Zion gospel group during her teens, she moved to Manhattan to become a Broadway star but ended up in Europe touring with the Jean Austin Singers and then in The Roots of Rock `N' Roll Revue where she opened for the legendary gospel singer, Bessie Griffin. Since the 1980s, McComb has been stationed in Paris where she's thought of as modern-day Mahalia Jackson for her earthy performances that have led her to headline France's biggest cathedrals and concert venues such as Palais des Sports.  She's recorded more than a dozen albums for labels such as Sony and EMI. She's also performed on concert bills with Ray Charles, James Brown, Taj Mahal and other musical luminaries.