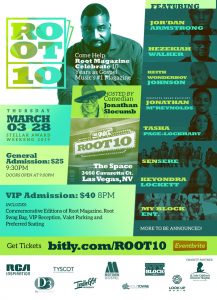 On March 28,  2019, ROOT Magazine, Gospel Music's #1 Magazine, will proudly celebrate 10 years of captivating journalism, exclusive interviews and literary excellence within the Gospel music industry with a star-studded concert! Taking place in Las Vegas during Stellar Award weekend, the event will feature live performances by Grammy® Award Winners Mary Mary and Hezekiah Walker, as well as Gospel music's biggest stars such as Tasha Page-Lockhart, Keyondra Lockett, Jor'dan Armstrong, Leon Timbo, JJ Hairston and a special one of a kind performance featuring Warryn Campbell and My Block Inc.
Hosted by comedian Jonathan Slocumb, ROOT Magazine will also honor those who've made a significant impact to the Gospel music industry by recognizing Grammy® and Stellar nominated Jonathan McReynolds with the Innovator Award, GospoCentric Records founder, Vicki Mack Lataillade, with the Industry Executive Icon Award, Gospel music aficionado, Donald Lawrence with the Legends Award, BMI's Wardell Malloy with the #RootCertified Award and Dr. Leonard Scott with the Lifetime Achievement Award.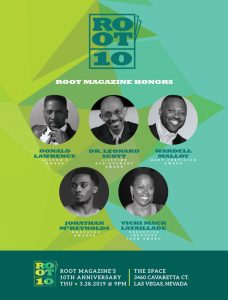 The evening will commence with a VIP screening of the documentary "Rooted and Grounded: The Evolution of Gospel Music". A production seven years in the making, the film is ROOT Magazine's Editor-In-Chief, Hasan James', "Labor of love" and will showcase the impact Gospel music has had in the music industry and the world.  The documentary features the likes of Cissy Houston, Tasha Cobbs-Leonard, CeCe Winans, Bishop Albert Jamison and more.
ROOT Magazine's 10th Anniversary Celebration will take place Thursday, March 28, 2019, at The Space (3460 Cavaretta Court, Las Vegas, NV 89103) at 8:00pm. Tickets can be purchased at www.rootmagazineonline.com
About ROOT Magazine
ROOT Magazine has become one of the premier publications in gospel music, producing cover stories for Grammy winning artist such as Kirk Franklin, Mary Mary, Hezekiah Walker and many more. In June 2009, the inaugural issue of Root was released and in just a few short years, Root has partnered with multi-million dollar corporations like BET, Global United Fellowship, The Merge Summit,  I Hear Music, GMWA and BMI to produce one of a kind magazines and journals.