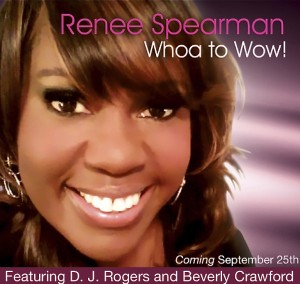 Featuring legendary soul singer DJ Rogers ("Say You Love Me", "God Favored Me"), "Whoa to Wow!" is the highly anticipated follow-up CD to Stellar Award nominee Renee Spearman's Billboard Top 10 single "He Changed Me". A twelve-track project of inspirational music, "Whoa to Wow!" also features the incomparable Beverly Crawford, "Tonight Show with Jay Leno" guitar virtuoso Paul Jackson, Jr, and bevy of all-star guests.
Released by highly regarded JDI/Universal, critical acclaim for "Whoa to Wow" has been unanimous. With Stevie Wonder's urban AC powerhouse KJLH 102.3 FM adding the song instantaneously, program director Aundrae Russell raves "Whoa to Wow!" is the breakout hit of the year! Combining the trademark vocals of DJ Rogers with Renee Spearman's formidable gift of pen, Whoa to Wow! is crossing boundaries and radio genres to bless souls everywhere. Every time we play "Whoa to Wow!", our phones light up!"
"I am humbled and honor to finally have the opportunity to work with DJ Rogers, one of the truly great male vocalists of our time" said Renee Spearman. "Whoa to Wow is a song God gave me to let people know that, even in the midst of these tough economic times and all the trials of life, He is still in control! And the great thing about God is He can turn things around instantaneously – doesn't take him a long time! So while the devil meant it for bad, God turned it around for my good – hence the title Whoa to Wow!"
In addition to the CD, "Whoa to Wow!" is also available in songbook/sheet music format as well as sing-along performance tracks.