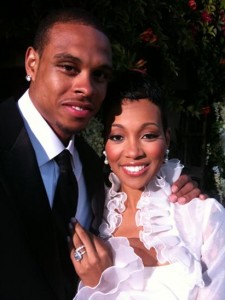 Former gospel choir singer turned pop star, Monica married LA Laker Shannon Brown quietly back in November, but the couple hosted hundreds of family and friends Saturday, July 9 in downtown Los Angeles for a bigger celebration of the union.
Among the guests were fellow Lakers players Kobe Bryant and Derek Fisher, as well as MTV host LaLa Vasquez and her husband, Carmelo Anthony, of the New York Knicks.
Monica started performing at an early age, and was a member of a traveling gospel choir by the age of 10. She is best known for her album The Boy Is Mine, which earned her international recognition.
Monica has previously experienced tragedy in life; her previous boyfriend suddenly committed suicide while visiting his brother's grave. That incident left Monica in depression for months, and only after spiritual direction from her parents was she able to heal and make a comeback on the music scene.
After the unsuccessful release of her album Through the Storm in 2003, it wasn't until 2011 when Monica returned to the top of the charts with her single "Everything To Me".
In June 2010, Monica met LA Laker Shannon Brown on the set of her music video for single "Love All Over Me".
Their engagement was announced by Monica on Twitter, along with a picture of the rose-cut diamond ring Brown gave her.
The couple wed quietly at a secret ceremony in their LA home the following month, and of her marriage, Monica released the statement "This is a very special time in my life. I am blessed to have married the man that God sent me; he's loving, compassionate, strong and supportive of my children, family, and career. I look forward to our life together."
The wedding celebration on Saturday included a three course meal with a blue and purple theme at Vibiana, LA's downtown cathedral.
Article Courtesy ChristianPost.com