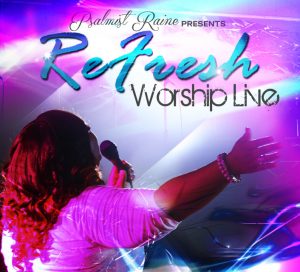 Those who were blessed enough to witness a virtually unrehearsed live recording of Psalmist Raine and her worship team will never forget it.  Recorded at Chicagoland Christian Center Embassy in late 2015, ReFresh Worship Live broke new ground in Gospel music.  The 3-hour recording featured only one song, the first song, that was rehearsed by Raine and the ReFresh Team prior to the night of the event; all other songs were given to the gifted prophetic psalmist on the spot.  The result was an unforgettable worship experience and a collection of songs truly inspired by God.  Captured on two CDs and a DVD, the recordings are now available for purchase.  The music is available on digital music outlets including iTunes; the DVD can be purchased on the artist's website, BeReFresh.com.
The recording of ReFresh Worship Live was an enormous step of faith for the psalmist.  Few artists can imagine stepping on a stage before hundreds of people with no idea of the songs that will be sung.  "About a year ago, the Lord spoke to me about doing a live ReFresh recording," recounts Raine.  "I was excited because I had songs that God had given me.  But He said 'no' to the songs I already had.  He said that He wanted it to be a straight prophetic recording.  That was very, very challenging for me.  I had never heard of anyone doing a prophetic recording before.  Literally, we had to remain open and build stamina and endurance for the presence of the Lord.  We had to consecrate ourselves so that we could remain in His presence for the entire recording," says Raine.
ReFresh Worship Live contains 23 songs of surrendered worship and exuberant praise.  Joining in the night's events were dancers and prophetic speakers stepping from the audience to the mic, speaking inspired words which flowed flawlessly with the divinely-motivated psalms.  Songs like "Here We Are Lord", "The Well" and "Right Here In This Room" showcase the vocal talents of the gifted worship leader.  Up-tempo tracks like "We Send Up Praise (Fill This House)", "Ride The Wave", and "In Your Refreshing" easily take the believer to another place of praise.  Exhibiting a dynamic execution of one song after another, the 2-CD project is perfect for anyone wanting to get closer to the Lord.  The DVD, which showcases the worship-filled night in living color, allows viewers to partake in a once in a lifetime event.
Music and worship has been part of Raine's life for years.  She is an ordained elder, a prophetess and the Worship Arts Pastor at Life in Christ Family Worship Center in Chicago.  In addition to leading worship, she also trains other worship leaders through her ReFresh Workshops and her newly formed ReFresh Worship Institute, Inc.  A nominee for the Chicago Gospel Music Award for Praise & Worship Artist of the Year and Winner of the Peculiar Art Award from Kierra Sheard's BRL (Bold Right Life) Chicago Chapter, she was a member of the University Choir at Grambling State University in Grambling, LA.  She's been influenced by artists such as LeCresia Campbell, Bridgette Campbell, Todd Dulaney, Maurice Griffin, Lonnie Hunter and many others.  ReFresh Worship Live is Raine's sophomore release; her debut album, Believe Again – The Live Experience, was released in 2013 to rave reviews.  She's been seen on TBN, TCT and other television stations.  For more information on Psalmist Raine, log on to www.BeReFresh.com. Connect with Raine on Facebook and Twitter (@psalmistraine).