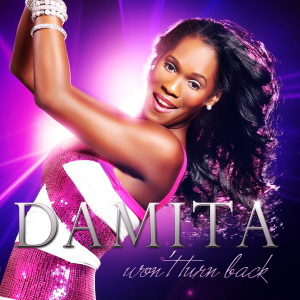 As the anticipation builds for Damita's 2012 release, she continues to deliver hot new music to radio.  Damita's lead single "I Love You" was well received and also revealed her undying Love for God.
The music continues with the new, follow-up release of "Won't Turn Back", a fun song that also carries a strong message of staying with God no matter the circumstances. Listen to Damita's interview with uGospel.com and her lead single, "I Love You" by clicking here.

Written by Damita and produced by, Fredrick "Blaze", "Won't Turn Back" is an up-tempo track with a stay with you hook that says, "I've been running for you a long time and I won't turn back, No I won't turn back!"
Damita's signature vocal arrangements stand out along with the song's melody and lyrics. Throughout the song, she expresses her commitment to God with the lyrics, "With you by my side, I know I can win, You're my God and You're my closest Friend-I won't turn Back!"
"Won't Turn Back" is a sure hit and one of many great songs from Damita's upcoming 2012 release.
Listen to a preview of "Wont Turn Back" below: