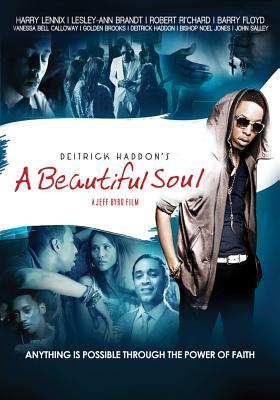 The song, "A Beautiful Soul" is on the CD, A Beautiful Soul (Music Inspired by the Motion Picture) which also features original music by Kierra Sheard, Canton Jones, Fonzworth Bentley and Faith Evans, among others. The first radio single, "No Betta" is a showcase for the Voices of Unity featuring Deitrick Haddon and Faith Evans.
Directed by Jeff Byrd ("Soul Food" TV series), A Beautiful Soul is the story of Andre Stephens (Haddon), an R&B superstar who has success, fame and fortune but has lost his way spiritually.  The film follows Andre after his "perfect" life is shattered in a brutal attack that leaves he and his best friend, Chris Johnson (Ri'chard), clinging to life.
The tragedy pushes Andre into a spiritual journey that forces him to make a choice that could change his destiny forever.  Leading the cast is Deitrick Haddon as Andre Stephens.  The film also stars Harry Lennix ("The Matrix"), Robert Ri'chard ("Coach Carter"), Lesley Ann Brandt ("Spartacus"), Golden Brooks ("Girlfriends") Vanessa Bell Calloway ("HawthoRNe") and Barry Floyd ("The Game").
Tyscot ManHaddon Films is excited about both premieres and grateful for all the support received in making this possible.
Watch the video for "A Beautiful Soul" below:
Watch the movie's official trailer below: