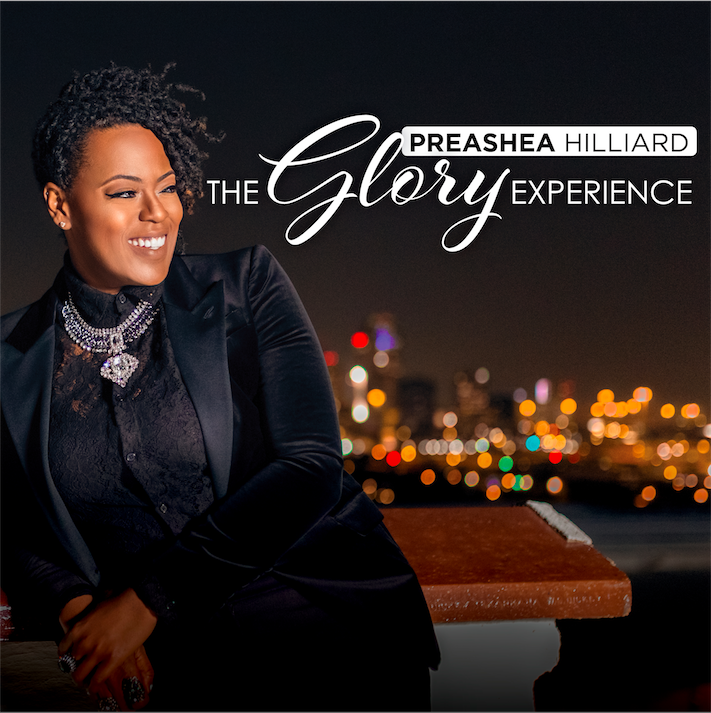 A powerful and strong sound has emerged from Texas and marks the return of a Preashea Hilliard. The sound of worship is enthusiastically declared on THE GLORY EXPERIENCE, a new deeply profound project from Houston's own Preashea Hilliard.
THE GLORY EXPERIENCE is available for pre-order as of today, March 10 on all digital platforms and fans will instantly receive "No God Like Our God" when they purchase the album and "The Glory Experience (The Prayer)" also available as a free download April 10.
It has been 6 years since Hilliard's last album (2011's acclaimed, Living Out Loud) and this project shows the growth expected over the years. Having grown spiritually and emotionally Hilliard gives listeners, THE GLORY EXPERIENCE, a well rounded and fully complete worship record. Set to be released independently on April 21 via Soundefx Media distributed by New Day Distributors, THE GLORY EXPERIENCE, is revelatory, poignant, restorative and multi-faceted.
Preashea Hilliard is a bridge builder and from start, to finish she connects listeners with the opportunity to connect with God. A genuine experience, the 15-track album, flows effortlessly supplying listeners with the tools needed for an incredible non-stop worship experience.
Hilliard penned ten songs from THE GLORY EXPERIENCE, five co-written by Eric King, Jr., who also served as Co-Producer and Music Director for her live recording. With Preashea at the helm, her creative savvy was evident as what was in her mind was brought to life in every detail of the live recording.  "I wanted an authentic sound," explained Hilliard. "Believing and trusting that the authenticity would relate to somebody today."
THE GLORY EXPERIENCE was recorded live at her father's church, Bishop I.V. Hilliard's New Light Christian Center North at the annual Strategies conference and the stunning atmosphere of worship during the live recording is still palpable on the album.
Two stand-outs "No God Like Our God" and "You Amaze Me" (written by Tasha Cobbs) can easily be described as modern day Psalms. "No God Like Our God,"the album's first single is a distinctly composed praise and worship song and is a perfect addition to Sunday morning's corporate worship.
THE GLORY EXPERIENCE in stores and online everywhere April 21.