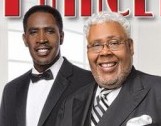 Come November 10th, fans of the legendary Rance Allen Group will get just want they have been yearning for with the release of the new, soulful, grooving album Celebrate. Being the most anticipated gospel album of the fall, the Stellar-award winning trio surely didn't disappoint with this one. Beginning today, fans who pre-order the digital album will receive the ever-popular "Something About the Name Jesus" (Producer's Remix) featuring Kirk Franklin. 
Pre-order here:
https://itunes.apple.com/us/album/celebrate/id926004168
Captivating listeners with their debut single "A Lil' Louder (Clap Your Hands)," the group set out to create an entire album with the kind of gospel sound that would make it impossible for anyone to stay seated.
"Creating an album with this sound and message was a blessing and the energy was truly God-sent," said Bishop Allen, who started the group over 40 years ago. "Our prayer is that whoever hears this project will be blessed and praise Him for who He has been to us in our lives."
"We are excited about Celebrate because we know that it will appeal across all generations, all races, all of God's children," said Dr. Leonard Scott, Tyscot Music & Entertainment founder. "It's gospel music at its core but it's meeting Christians where they are in their walk. From the horns and rhythmic sound of "A Lil Louder" to the soulful, grooving Chicago-stepping sound of "Celebrate," the iconic Rance Allen Group didn't disappoint and we know that fans, new and old, will be blessed by this album."
"The versatility and timelessness of the Rance Allen Group never ceases to amaze me," added Bryant Scott, President of Tyscot. "I thank God for our longstanding relationship which has produced many hits and will continue to do so."
Celebrate Track Listing:
1. A Lil' Louder (Clap Your Hands)
2. Celebrate
3. Champion
4. Sounds Like Rain
5. Step Out
6. U R Not Alone
7. Turn It Around
8. Feel the Spirit
9. He's Real
10. Stay Focused
11. Through The Fire
12. Walking In the Sand
Celebrate will be available in stores and online November 10th.