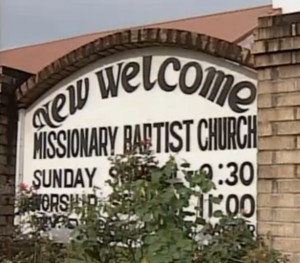 A man gets tased followed by a woman getting stabbed sounds like the plot of a scene in an action movie. One would never think those words could be used to recollect Sunday's church service.
Well that's the case for the congregation of New Welcome Baptist Church in St. Elmo, Alabama. According to WPMI Local 15 News, authorities say Simone Moore, former minister of music for the church, tased Reverend Daryl Riley followed by Harvey Hunt, a deacon at the church, stabbing Moore's mother, Agolia.
The fight ensued immediately after Sunday's service, when Rev. Riley informed Moore that his services will no longer be needed at the church. Then, Riley gave Moore his final check. That's when authorities say an upset Moore tased Riley.
Next, Hunt pulled out his pocket knife and began to stab Agolia, who received 19 stitches from the attack. Finally, an all out free-for-all ensued; leaving six people hospitalized. They have all been released since the incident.
Moore, teacher and self-proclaimed R&B artist, is wanted by the Mobile County Sheriff's Office and has a warrant out for his arrest. Hunt has a warrant for his arrest as well.
For the entire story click here.
**Check out the video below**