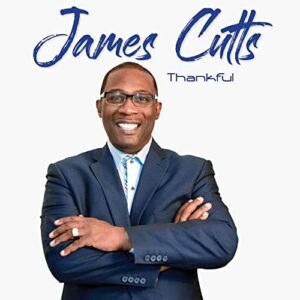 Traditional gospel recording artist and Pastor James Cutts is giving thanks during this holiday season as Thanksgiving approaches since his recovering from the ravages of COVID-19 (his wife also contracted the virus and recovered). Click here to stream Thankful. He released his 7-track EP Thankful in April 2021, and has been noted by journalist Bob Marovich of The Journal of Gospel Music as "a buoyant piece with a quiet storm R&B vibe." His project is the follow-up to his 2017 recorded single, "Jesus Will Fix It," with welterweight boxer Floyd Mayweather Sr.
Born into a musical family at the age of 4, he was singing with his family quartet The Wings of Faith. At the age of 10, he had learned how to play the bass guitar and performed and recorded several songs with his sister. Together, they shared the same stage with notable groups such as The Pilgrim Jubilee, Mighty Clouds of Joy and The Canton Spirituals to name a few. At the age of 17, Pastor Cutts accepted the call to preach after performing and making several appearances with his friend and GRAMMY award winning musical legend Al Green. He credits Green for his overall musical knowledge and ministry acumen. At the age of 22, Cutts was an ordained minister and traveled across the world speaking to Spanish groups and various denominatons . In 2012, Pastor James Cutts received a Masters degree in social work and served as a substance abuse counselor and worked with autism organizations.
Years later, Pastor James Cutts ultimately was drawn back to music singing the Gospel and found himself recording with the Metropolitan Church choir and recording the song "Jesus, I'll Never Forget" with Dr. Bobby Jones. He's performed and/or opened for greats such as James Cleveland, Kurt Carr and Fred Hammond to name a few. Pastor James Cutts has been supported by the famed Williams Brothers and has been publicly acknowledged by his hometown friends, family group The Debarge and Dr. Marvin Sapp – who credits Pastor Cutts as a progressive gospel trailblazer within the Grand Rapids area.