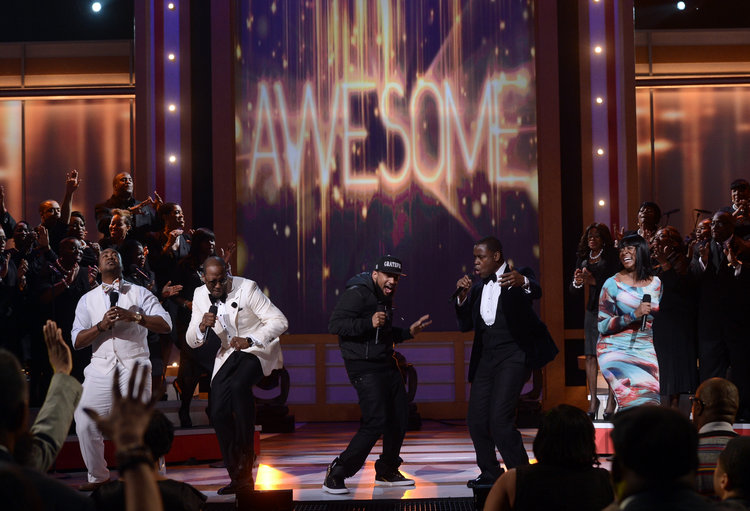 Inspired People Music Recording Artist Pastor Charles Jenkins, GRAMMY Award & multiple Stellar Award Winner, is known for his mega-hit and Billboard chart-topping single, "Awesome".  The renowned Senior Pastor of Fellowship Missionary Baptist Church in Chicago, IL, will be appearing on BET's Celebration of Gospel on Sunday, April 7th at 8PM EST.  During the artist's first appearance on the Gospel music program, he will debut a brand new remix of the popular "Awesome".  Featuring Da' TRUTH, Canton Jones, Isaac Carree, and Jessica Reedy and Jenkins, the remix presents the radio smash with a fresh, urban approach.
The "Celebration of Gospel Awesome Remix" is just one of the tracks included on the new "Awesome" EP.  Releasing digitally on Tuesday, April 9, 2013, the EP will feature five different versions of "Awesome": the original version, an instrumental version, two house mixes produced by the legendary Remix King Vince Lawrence, and the Celebration of Gospel Awesome Remix with Da' TRUTH, Canton Jones, Isaac Carree, Jessica Reedy and Pastor Charles Jenkins.  The EP will provide fans numerous new ways to declare the "Awesomeness" of God.
Due to the overwhelming response to the Inspired People Songwriting Contest and the amazing number of song submissions, Inspired People Music will announce the winner on Monday, April 29, 2013!  Carlton Jenkins, VP of Inspired People says, "We had to push back the announcement of the winner to ensure that we carefully review each song out of honor and respect of each writer".
Understanding the difficulties of breaking into the industry, Pastor Jenkins launched the contest to provide a platform for gifted songwriters.  The Grand Prize Winner will have their song placed on the next Pastor Charles Jenkins & Fellowship Chicago CD. The winner also receives a publishing deal with Inspired People, LLC and a $1,000 cash advance against royalties; an Apple computer and a gift card from a major retailer.  The name of the winner will be announced at www.inspiredpeoplemusic.com.
Pastor Charles Jenkins is a dynamic, inspirational and visionary religious and community leader. He is widely known as the Senior Pastor of the legendary Fellowship Missionary Baptist Church in Chicago, Illinois, where, under his leadership, the membership has grown to 8,000 members. The author of the leadership book, Thriving In Change, he is also a GRAMMY® Award-winning songwriter, an accolade he received working with Israel Houghton and New Breed on the Alive in South Africa album penning the song "You've Been A Friend". His latest CD project with Fellowship Missionary Baptist Church-Pastor Charles Jenkins Presents Fellowship Chicago Live: The Best of Both Worlds, released in June 2012.  The lead single and ultimately his mega-hit, "Awesome", netted the artist five 2013 Stellar Awards (Song of the Year, CD of the Year, Choir of the Year, Traditional Choir of the Year and Recorded Music Packaging of the Year) in January 2013.