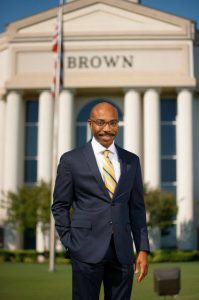 Bartholomew Orr is the Senior Pastor of the historic Brown Missionary Baptist Church in Southaven, MS.  Pastor Orr has served in this capacity since 1989. Under his leadership, the church has experienced tremendous growth, spiritually and numerically with a membership that exceeds 10,000, over 40 enriched ministries, thriving foreign missions teams, and a church in Ghana, Africa.  Despite a large church setting, Pastor Orr works diligently to ensure that Brown maintains a "family-like" atmosphere.
Pastor Orr received his Doctorate Degree in Ministry from Union University. He has always used his passion for education to train and empower other ministers.  Orr selflessly dedicates his service to the Metropolitan Memphis community by contributing time and resources to many organizations.
Pastor Orr is in his 10th year serving as a board member and is Treasurer of the Board for Trinity Healthcare.  Since 2003, Orr has offered major support for Metropolitan Iner-Faith Association (MIFA) helping to assuring MIFA's success is achieving their mission of supporting the independence of vulnerable seniors and families in crisis.   Orr has also lead contribution efforts of over $268,000 to   Leymone Ownes College, an exemplary historically black college providing excellent liberal arts education.
Earlier this year, for his exceptional service to the community, Pastor Orr was awarded the 2018 Campion Award at the 50th year recognition of the assassination of Dr. Martin Luther King, Jr in Memphis, TN.  Orr and Brown Baptist have a goal to raise $1.2 million for missions and in doing so have also partnered with the RISE Against Hunger organization whose missions is to feed families in need.  To date, Brown Baptist members have packed 30,000 meals to be shipped to those in need. www.riseagainsthunger.com
Pastor Orr also invites the public to The Family of Faith Conference July 27-28.  The Family and Faith Conference is a two-day event that offers everything from a Christian comedy show to a kids movie night and a wide-range of workshop options for each person in your family.  Whether you're married or single,  a child or an adult, there will be something for everyone at this conference.  The family conference will feature multiple award winning recording artist Donald Lawrence and guest speaker E. Dewey Smith from The Hope House of Atlanta. The full line-up of speakers and activities can be found at http://brownbaptist.org/familyconference.  
Pastor Orr's continual efforts to better the lives of people, raise up a new generation of champions for a secure future, and strategically develop and utilize valuable global resources proves Orr is a champion in ministry and in his community.