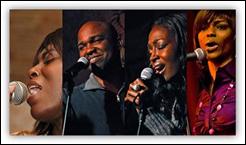 Nashville, TN – Award winning gospel songwriter and vocalist Oscar Williams, Jr. is currently on a summer mission to impact the world with the gospel of music.  Oscar Williams, Jr and Perfected Praise were selected out of over 100 applicants to participate in the Rhythm Road Program that sends American musicians to non-westernized countries to help promote and teach American based music.  The program is also designed to strengthen and build U.S. relations with the countries the musicians visit.  This is Oscar's first year with the Rhythm Road Program which will have him tour four countries: CYPRUS (Larnaca); LEBANON (Beirut, Jezzine, Kharley, Tripoli); Poland (Warsaw, Kielce, Krakow); Romania (Bucharest, Constanta).
Recently featured on the CBS Morning News, Oscar and his singers (Thelma Guyton, Tracy Smith, Meaghan Williams) have performed at several Ambassador's residences and met Presidents and Prime Ministers creating an experience that has been nothing less than phenomenal.  They've been able to share Gospel music with Muslims, non-believers and embrace the different Christian communities in each country they've toured.  Oscar also participates in lectures at Universities and libraries teaching the importance and significance of gospel music.
Oscar's musical presentation represents artistic honesty which is being embraced by all walks of life, creeds and religions.  "What we do is not like your regular concert, it is very interactive and the audience is MADE to sing, clap and dance," Oscar explains. "Before long, they feel like they can really understand the music and it's not as foreign to them as they thought."  The group finds itself in front of audiences that include professional musicians of all genres, government officials and dignitaries and citizens of all ages.
Although this is Oscar's first Rhythm Road tour, this aligns with his mission and desires to take his music into international territory.  "I knew a long time ago that God was entrusting me with an international ministry," Oscar states.  "I am striving to represent Christ the best way I can. I don't want to bring any shame to His name. I want to show the world His unfailing love and grace."
The tour ends in a few weeks stopping last in Romania.  Oscar plans to head back to the states where he has tour dates scheduled in Mississippi, Atlanta, St. Louis, Cincinnati and Orlando all while  continuing to work on his next studio release which will be complete late fall.
Oscar is most noted for having penned "Safety", the soul-stirring gospel hit favorite, and "God is Able" the radio chart toping song recorded by Joe Leavell.  Oscar is one of the industry's most sought after music directors and clinicians.  He holds a Bachelors degree in Music from the University of Missouri – St. Louis.  His songwriter credits include contributions to Gospel Today presents Praise and Worship Project II, Smokie Norful presents Victory Cathedral Choir; The Thomas Dorsey Convention Project, Jasper Williams, Jr's Landmark, and on projects by powerhouse vocalist Lecresia Campbell, The Mississippi Mass Choir, The Wilmington Chester Mass Choir and The GMWA Youth Choir.
About the Rhythm Road
Launched in 2005 in partnership with Jazz at Lincoln Center, The Rhythm Road: American Music Abroad, has already sent 118 musicians from 31 Jazz, Urban or American roots music ensembles to 97 countries. In the tradition of the original Jazz Ambassadors program that sent Dizzy Gillespie, Louis Armstrong and Dave Brubeck on world tours during the Cold War era, Rhythm Road brings American culture to audiences around the globe through person-to-person exchanges, focusing particularly on those in more remote areas.
The musicians' engagement with foreign audiences via workshops, master classes and jam sessions presents a positive image of the U.S. and provides a greater understanding of our society. The U.S. artists themselves deepen their knowledge of other cultures, enhance their creativity, and feel the pride of representing their country.
To learn more about musical ambassadors sponsored by the U.S. Department of State, see the related program, Musical Overtures, which sends experienced musicians to nations involved in, or recovering from conflict.