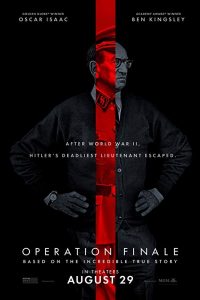 The thrilling true story follows the 1960 covert mission of legendary Mossad agent Peter Malkin as he infiltrates Argentina and captures Adolf Eichmann, the Nazi officer who masterminded the transportation logistics that brought millions of innocent Jews to their deaths in concentration camps.
This is one film that really opens eyes to Determination, Faith, Respect and Unity! Operation Finale opens in theaters everywhere August 29th, 2018.
Metro Goldwyn Mayer Pictures' razor-sharp thriller, Operation Finale, brings to life one of the most daring covert operations in modern history. Starring Golden Globe winner Oscar Isaac (Star Wars: The Last Jedi, Ex Machina) and Academy Award winner Sir Ben Kingsley (Gandhi, Schindler's List), and the film vividly captures the ingenious and brilliantly executed mission to capture Adolf Eichmann, one of the chief architects of the Holocaust.
Fifteen years after the end of World War II, acting on irrefutable evidence, a top-secret team of Israeli agents travel to Argentina where Eichmann (Kingsley) has been in hiding together with his family under the alias 'Ricardo Klement' and execute an extremely dangerous abduction. In attempting to sneak him out of Argentina to stand trial in Israel while being pursued by the country's right-wing forces, agent Peter Malkin (Isaac) is forced to engage Eichmann in an intense and gripping game of cat-and-mouse with life-and-death stakes.
Operation Finale is directed by Chris Weitz (About a Boy, The Twilight Saga: New Moon) from a screenplay by Matthew Orton. Oscar Isaac is also a producer, along with Brian Kavanaugh-Jones and Fred Berger under their Automatik company and Jason Spire's Inspire Entertainment.
uGospel's own Khalif M. Townes had a chance to sit down with some of the cast to discuss there rolls in the film and what it meant to them being apart of it. See Below:
For the central role of Adolf Eichmann, the filmmakers chose the chameleonic Oscar-winner Sir Ben Kingsley to flesh out the Nazi leader's complications and contradictions. "First off," explains Weitz, "he's one of our greatest living actors. We were confident he would bring the right mixture
of pathos and charisma to the character. The emotional complexity Kingsley is able to evoke as Eichmann is intriguing, making it harder for the audience to dissociate from the character and easier to understand why certain people are attracted to the Hitlers of the world."
Kingsley's portrayal added further nuance to the character he'd written, Orton claims. "Watching Kingsley at work is an utterly captivating experience. He did something I didn't think was possible, make me both love and loathe Eichmann. It's terrifying."
Kingsley says he was grateful to be offered the role of Eichmann, which as in Schindler's List, afforded him an opportunity "to participate in the telling of an extraordinary story that offers insight into a historical event that can never be forgiven or fully understood, but must never be forgotten. And I, as a storyteller and actor can help perpetuate that memory."