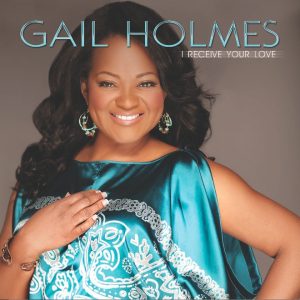 Gail Holmes is a new artist on Habakkuk Music whose debut CD, I RECEIVE YOUR LOVE, is a truly breath of fresh air.  Combining breathtaking praise ballads, bouncy pop tracks and intimate worship songs, Holmes introduces herself and her music ministry in great fashion.  Bringing together hopeful lyrics and an exuberant vibe, Holmes presents 10 songs of love, praise, commitment, purpose and encouragement.
A singer and songwriter, Gail Holmes' lyrics offer pure sincerity and a power that connects her to her audience. Rarely in an industry that covets youth, does someone start recording after 30, but Holmes realized that this is not only her time but also it's her turn.
And, I RECEIVE YOUR LOVE is perfectly timed for today's audiences.  On so many levels, in a time when the world is seeking balance and peace, the album is a necessary reminder of what love is, what love looks like and how love acts.
Holmes seamlessly builds bridges across genre lines with a strong emphasis on Praise & Worship. Her varied influences are a result of being a part of different churches and are what drive this album. However, praise and worship is where Holmes' heart truly is "it keeps me focused and connected to the 'real me'," she said.
The current single "Whatever It Is," is a mid-tempo groove that has quickly generated tremendous buzz at radio and speaks a message of encouragement.  Reaching the top 20 this week at Gospel radio, the song was influenced by and co-written with her daughter.  "Whatever It Is," came from conversations surrounding what younger people are going through today.  Also of note on the album are Holmes' inclusion of incredible worship songs such as "The More I Seek You," a duet with her pastor, Bishop George Davis; the serene "Breathe on Me," and the stunning Donald Lawrence-penned "God."
I RECEIVE YOUR LOVE in-stores & online everywhere today!