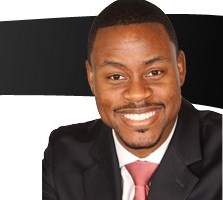 Pastor Charles Jenkins is dynamic, inspirational and visionary religious and community leader who is greatly respected for his innovative, holistic approach to church growth, business development, community improvement and large-scale community development and social change.  He is widely known as the senior pastor of the legendary Fellowship Missionary Baptist Church, in Chicago, Illinois, where, under his leadership, the membership has grown to 8,000 people. The author of the inspiring leadership book, Thriving In Change, he is also a sought-after adviser to government and political leaders, business groups and advocacy organizations.
Perhaps less known is the fact that Charles Jenkins is a GRAMMY® Award-winning songwriter, and a recording artist.  His very first foray into professional music writing turned out to be an award-winning venture.  He penned the song "You've Been A Friend" for Israel Houghton, which he recorded on his album, Israel and the New Breed Alive in South Africa. That CD won a 2006 GRAMMY® Award for best traditional gospel CD, so everyone who worked on the CD, including Jenkins, received a GRAMMY®.
His first recording project with Fellowship Missionary Baptist Church, Pastor Charles Jenkins Presents Fellowship Chicago Live, will be released online and in stores everywhere in June 2012.
With the production and release of this CD, Jenkins continues a long musical tradition at Fellowship, which released several albums under the leadership of Jenkins's predecessor, Reverend Clay Evans.  Jenkins has been very "hands-on" at every stage of the project—from creating a music label to producing this and future CDs, to arranging some of the music, to penning some of the songs.  "As the senior pastor, I knew what Fellowship needed and it was my responsibility to figure out how to deliver that," he said. "I wanted to protect the brand and the legacy of Fellowship." The CD begins with a tribute to that legacy. "Fellowship Medley," includes some of Fellowship's most popular and time-honored songs. Jenkins, who arranged the medley, believed it was important to celebrate what had been done in the past, as the choir steps into its musical future.  In many ways, that is the theme of the CD, which features music that ranges from traditional gospel to contemporary praise and worship, with R&B, hip hop, spoken word, rock styles and rhythms.
"Worthy Is Your Name" is an upbeat praise and worship song that features the warm vocal tones of lead singer Anita Wilson. With its compelling melody, it invites the listener to celebrate God. "Joy Will" was written by Jenkins, who says that it is one of his favorite songs.  Featuring energetic drum and horn arrangements, the song has an R&B groove and the encouraging message that even as we go through challenges in life, we know that joy will come in the morning. Jenkins also penned "Awesome," the first single from the CD. This praise and worship song has a memorable melody and powerful message that is earning praise from reviewers and winning a broad fan base. "Close to You," written by Rick Robinson, is what Jenkins' describes as an "amazing worship song that has the effect of a prayer and that celebrates who God is." The CD also includes a version of Robin Mark's "No God like Jehovah," which is presented with a more contemporary gospel spin.  Jenkins' goes traditional in "A Word For Me," which he wrote to celebrate the best of the Southern African American tradition in gospel music.  The song speaks to the power of scripture to shed light on what we should do or how we should act in various situations in life.
Jenkins' CD project, Pastor Charles Jenkins Presents Fellowship Chicago Live, has brought him back to the music. He now sees his music and song writing as a gift worth sharing. Jenkins, who is deaf in one ear, says, "Whenever I write a song I hear everything—lyrics, chord progressions—everything. It rushes down on me and I have to sing it over and over again to keep it in my head."
Jenkins believes that music can be the basis of an urban Christian movement that attracts people in ways that many traditional churches have not. "There are opportunities to create amazing music and to create a religious movement around that music," he said. "For us, this is not just a CD project, it a movement for God that begins with this project."
Listen to "Awesome" below: