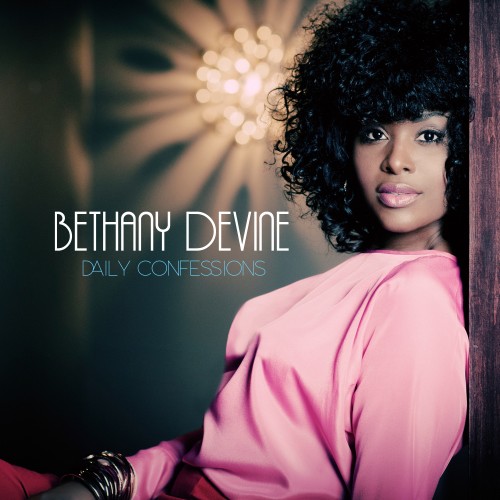 The equally fun, fresh and powerfully anointed Gospel style of newcomer Bethany Devine resonates on her brilliant debut album DAILY CONFESSIONS, and has captured the attention of the Gospel music industry and Gospel music fans.
Released independently on Asaph Ward's Miralex Entertainment, DAILY CONFESSIONS has landed a Top-10 chart position after its first week of sales. While the first single – "Miracle" – continues to build at radio, Devine is well positioned to take her music and her ministry to boundless new heights.
Celebrated producer Asaph Ward, who has produced over 40 albums including classics from Kim Burrell; Dorinda Clark Cole; Smokie Norful; Donnie McClurkin; Coko and Mary J. Blige, has an undeniable ear for great music and great voices, and he handpicked Devine as the first artist on his Miralex Entertainment label.
"I felt like Bethany had the perfect combination of a pure heart for God, a beautiful voice that really gives life to songs, and a youthful energy that would offer something vibrant and new to Gospel music," says Ward.
"She has a fresh sound! It's a little different but I promise, it's going to bless you.  Along with myself, some of the greatest musicians in music offer their gifts…Chris Johnson, Ethan Farmer, Darrell Freeman, Merlon Devine, Time Mole, Donald Hayes, Michael Fish Herring, Mike Ciro, Morgan Turner, Michael Bereal, Philip Lassiter, Andre Britten, Tim Mason and Kevin Powell play on the album. It's exciting to have such a great first week, and I am looking forward to and working hard to continue to expose her music to the world."
Devine has also received accolades from other Gospel music industry icons:
Eric Dawkins says: "Bethany Devine has a voice/sound that I could drive around all day listening to! She gives a solid vocal performance."

Richard Smallwood says: "Bethany has a great voice. One of the things that I was impressed with is her ability to handle diverse styles, from praise and worship to up tempos, to traditional flavored to contemporary. She handles them all well and with great musical sensitivity."

Kim Burrell says: "Bethany Devine comes from a wealth of talent. Her voice is indicative of homegrown but progressive ability. This, paired with Asaph Ward as producer, is a combination bound to succeed!"
Bethany Devine hails from Little Rock, AR. Her album features Canton Jones on the blazing "V.I.C.T.O.R.Y"; a beautiful traditional church ballad titled "You Brought Me," which is also a duet with her mother; the soulful "Hold Me," and a remake of Amy Grant's "El Shaddai" – which reflects her devotion to worship music.
Devine recently ministered at the Global United Fellowship Inaugural Conference in Winston-Salem, North Carolina, and  will appear on August 17 at Perfecting Faith's Church Without Walls in Long Island, hosted by Pastor Donnie McClurkin. Devine will then head to Trinidad/Tobago for the AMMBCON 2014 – the largest music business conference in the Caribbean.
DAILY CONFESSIONS is available now on all digital music outlets as well as Wal-Mart, Lifeway and Mardels.