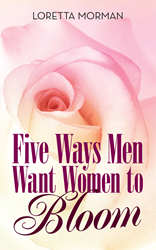 Loretta Morman understands that men and women weren't designed the same by God, so she set out to educate women on how they can work toward understanding those human differences in order to have a healthy relationship.
"Five Ways Men Want Women to Bloom" is Morman's story of her own personal flourishing based on 30 years of marriage. The book contains insight gleaned from interviews with men and women that helps readers understand their partners' desires and values, helping them pursue the loving relationship they want.
Featuring the five 'blooms' of a rose; respect and love, communication style, romantic skills, inspiration and transformation, Morman explains how those traits are essential for women to contribute to a loving, healthy relationship.
The book also features a personal blooming plan at the end of the book so that women can write down a vision for their marriage and put it into action.
"Throughout my three decades of marriage, I've discovered what makes a marriage happy and what makes one unhappy," Morman said. "I've personally tested the five blooms in my life over the course of my marriage and can say with confidence that it has positively affected myself, my partnership, and everyone in my life."
In "Five Ways Men Want Women to Bloom," Christian women and women of all ages can have the skills to build a successful and happy marriage.
"Five Ways Men Want Women to Bloom"
By: Loretta Morman
Available at the Archway Publishing Online Bookstore and Amazon
About the Author
Loretta Morman is recognized as "his only lady" at Christian Tabernacle Church, where her husband, Dr. James Morman, serves as pastor.
She has a love for children and their development, a genuine concern for the growth of women, and an earnest desire to serve God. Her passion for excellence within her personal life and in ministry have proven invaluable to her husband, her family, and the church fellowship.
With so many tasks assigned and executed, she exemplifies the character of the Proverbs 31:29 woman: "Many women have done wonderful things but she outclasses them all."