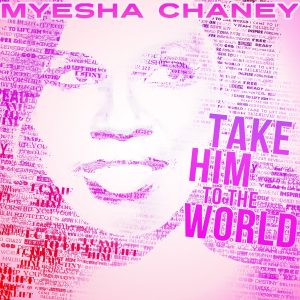 Kingdomanity/Relevé Entertainment inspirational recording artist Myesha Chaney will release her debut CD, Take Him to the World, in stores and online everywhere on July 3.  Myesha has burst onto the gospel music scene with a fresh new sound and a simple but radical goal: to take Jesus into the world by any means necessary. It's the concept and the title of her debut CD. She is taking Jesus to the world through music that captivates and changes the lives of people in and outside of the church.  The lyrics of her songs focus on praise and worship of a loving and powerful God while she effortlessly fuses urban worship with rock and soul.  She brings to her music a unique artistic vision shaped by both her creative energy and her roles as a pastor's wife, minister, worship leader, radio personality and columnist.
The first single from the CD, "I Came to Lift Him," was written by Myesha, with Gerald and Tammi Haddon, as a declaration to the gospel music industry about who she is and what she is here to do.  The R&B style song, with its hard-driving beat, is aimed at an urban audience.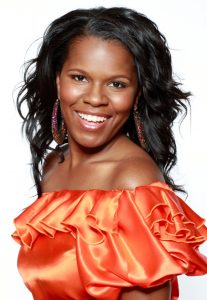 Myesha is a partner in ministry with her husband, Wayne Chaney, who is the Senior Pastor of Antioch Church of Long Beach, California.  The Chaneys co-host a popular weekly radio show, "Real Life with Pastor Wayne and Myesha Chaney," on Stevie Wonder's KJLH-FM in Los Angeles, and are the founders of the Long Beach Gospel Fest. Myesha has a weekly inspirational column on Lee Bailey's EURWEB.com (http://www.eurweb.com/2012/05/myesha-chaney-rejection-not-me/) and a weekly blog on Interactive One'sElev8.com (http://elev8.com/580471/myesha-chaney-wants-to-know-do-you-live-with-purpose/). She also is a featured blogger on ESSENCE.com. Her debut blog, "Hiding Behind the Lipstick," premiered on ESSENCE.com on May 17, 2012 and was the most popular blog of the day (http://www.essence.com/2012/05/17/hiding-behind-the-lipstick/).
Myesha will kick-off her promotional tour in New York City on Monday, June 4, at the Apollo Theater's Spring Gala event, followed by a TV taping and concert at Trinity Broadcasting Network JCTV's music show, "15th Street Live;" and a series of press, radio, retail and church events. Other special events on her promotional tour schedule will include the AIM Convention's Urban Cafe, the ESSENCE Music Festival, the International Black Broadcasters Association Conference, the Long Beach Gospel Fest and more.
Date/City/State
Monday, June 4, 2012
New York, NY
Tuesday, June 5, 2012
New York, NY
Wednesday, June 6, 2012
New York, NY
Saturday, June 9, 2012
Ardmore, OK
Thursday, June 28, 2012
Philadelphia, PA
Friday, June 29, 2012
Baltimore, MD
Saturday, June 30, 2012
Washington, DC
Sunday, July 1, 2012
Atlanta, GA
Monday, July 2, 2012
Columbus, GA/Chattanooga, TN
Tuesday, July 3, 2012
Augusta, GA
Wednesday, 4, 2012
Huntsville, AL/Montgomery, AL
Thursday, July 5, 2012
Birmingham, AL
Friday, July 6, 2012
Birmingham, AL/New Orleans. LA
Saturday, July 7, 2012
New Orleans, LA
Sunday, July 8, 2012
Long Beach, CA
Monday, July 9, 2012
Nashville, TN
Tuesday, July 10, 2012
Memphis, TN
Wednesday, July 11, 2012
Little Rock, AR
Thursday, July 12, 2012
Shreveport, LA/Dallas, TX
Friday, July 13, 2012
Dallas, TX
Saturday, July 14, 2012
Dallas, TX/Houston TX
Sunday, July 15, 2012
Houston, TX
Monday, July 16, 2012
Houston, TX