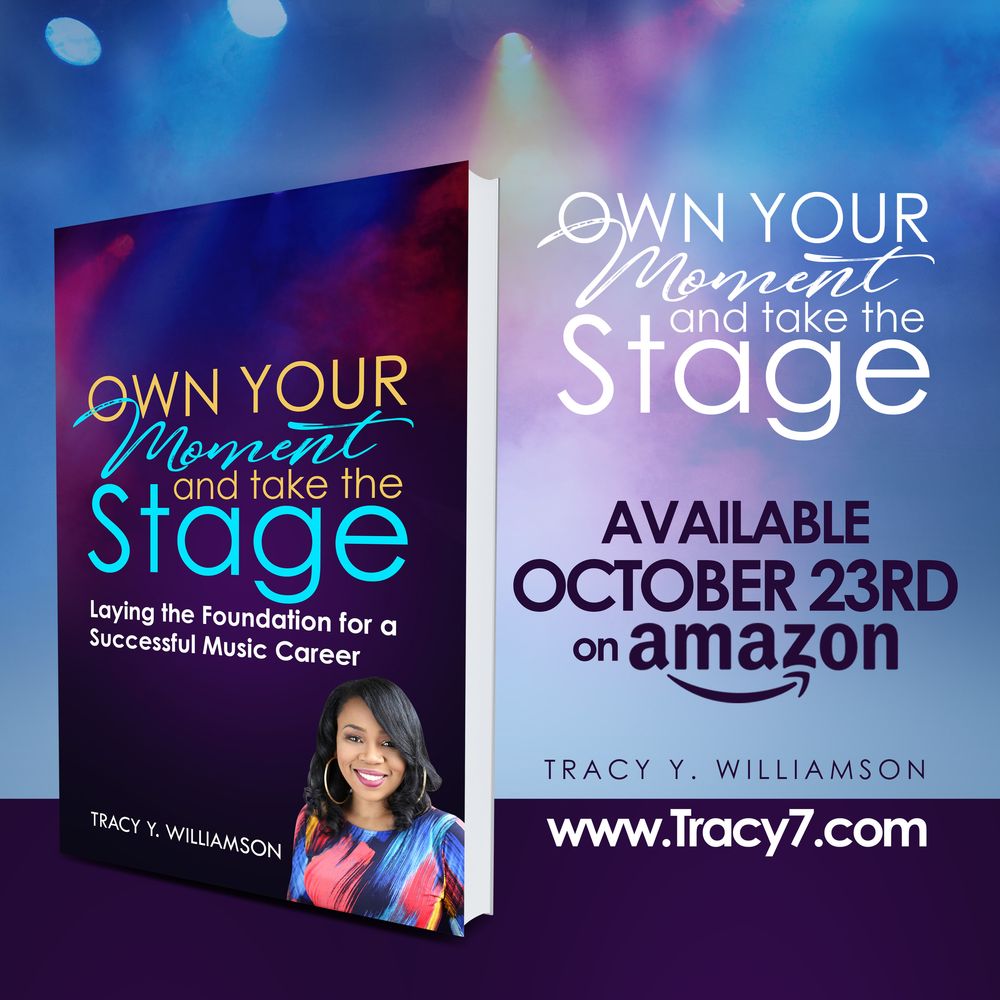 Gospel Music Industry Executive and Founder of Tre7 Entertainment, Tracy Y. Williamson has added "Author" to her name with the upcoming release of her book on October 23rd: "Own Your Moment and Take the Stage: Laying the Foundation for a Successful Music Career".
Tracy has worked in the music industry for nearly 20 years as a record label executive, artist consultant, publicist, artist manager, songwriter, producer, entrepreneur, and radio host. Through her new book, "Own Your Moment and Take the Stage: Laying the Foundation for a Successful Music Career", Tracy shares her journey along with viable tips and information to help guide those who desire to be connected to the music industry.
The Book
If you are in pursuit of a career in the music or entertainment industry, this book will step-by-step help lay the groundwork for you to successfully own your moment and take the stage.
Gain insight, motivation, and information to properly develop your vision before writing a song, recording music, releasing a project, performing on stage, or signing with a record label. Learn how to establish and maintain your vision, finances, music, creative goals, team and brand, while pursuing national platforms, record contracts, and distribution deals.
This book also includes an Artist Journal to notate your moments of creativity and information gathered throughout your journey.
Endorsements
"I've had the experience of working with Tracy Williamson and it was an experience of excellence! She was giving, attentive, and such a caregiver. Talent coordination at its finest!"
-Anthony Hamilton, Grammy Award-Winning and Platinum Selling Recording Artist
"I am so proud of Tracy.  She is driven and a dreamer. She sees things before they happen and works to make her dreams a reality. She has tough skin to deal with the pressures of the music business. She prepares herself for the journey at hand and believes she can do anything with God on her side. She is a true professional."
-Percy Gray, Jr., Stellar Award-Winning Songwriter and Producer
"Tracy Williamson's love and gift for developing and cultivating gospel artists comes from a pure place. Many artists have benefited from her knowledge, authenticity, and commitment to equipping them with the tools needed to navigate throughout the music industry.
-Kevin Bond, Grammy Award-Winning Producer
"Tracy has established herself as an industry professional and expert in the areas of A&R and marketing. The information in this book should be a blessing to any artist seeking to further their career in the music business.
-Bryant Scott, President of Tyscot Records – Oldest African-American-Owned International Gospel Record Company 
Pre-Order: Own Your Moment and Take the Stage: Laying the Foundation for a Successful Music Career at www.Tracy7.com 
Available on October 23rd on Amazon and at www.Tracy7.com.
"Don't Just Be….Become"-Tracy Williamson