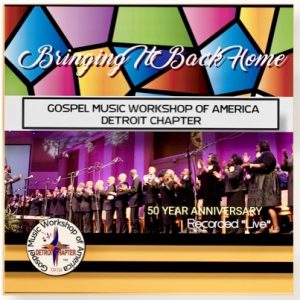 The Historic Gospel Music Workshop of America Detroit Chapter is putting a new spin on their rich traditional mass choir sound with the release of their 50th Anniversary celebration album, Bringing It Back Home. The cd release event was held on September 16, 2018 at Greater New Mt. Moriah Baptist Church, Detroit, MI. and featured the Detroit Chapter Mass Choir performing selections from the CD.
The GMWA Detroit Chapter recorded Bringing It Back Home "live" , October 21, 2017at Detroit's Second Ebenezer Baptist Church. This was the Detroit Chapter's celebration of the Gospel Music Workshop of America, Inc., the world's largest gospel music convention, organized in Detroit 50 years ago by the undisputed King of Gospel, the late Reverend James Cleveland.  The Detroit Chapter worked from within its own ranks selecting renown producer Rudolph Stanfield, Jr. Together with legendary producer A. Jeffrey LaValley they collaborated, combining the best of both, and fashioned a sound certain to become classic.
Stanfield is optimistic about this project, "This album portrays what the GMWA has meant to Gospel music through the years. There will always be room for this sound." LaValley echoed those very same sentiments, "To be included in the 50th Anniversary Recording of the Gospel Music Workshop of America—Detroit Chapter, was an honor.    There is an abundance of talent in this singing aggregation, as well as a richness of history. Having the opportunity to work alongside veteran producer Rudolph Stanfield, Jr. was an opportunity of a lifetime, and to work with Detroit Gospel Giants such as Sande Rose, Tony Lucas, Michael Fletcher, Volley Craig, Rodney Choice, Myron Bell, Dr. Gregory Troy, and so many others proved to be a memorable experience.  I'm grateful to have had the opportunity."
GMWA Detroit Chapter CD is available now on all digital outlets.