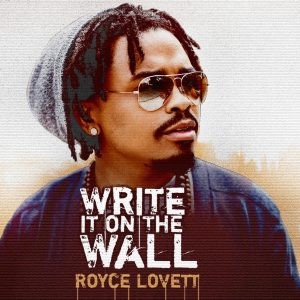 Multi-talented Pop Soul recording artist Royce Lovett releases his major label debut 5-track EP WRITE IT ON THE WALL (Motown Gospel) today produced by American music producer Nate Butler (Backstreet Boys, Luther Vandross, Christina Millian). The project is available now in stores and on all digital platforms, including iTunes (http://apple.co/1W6tVRr), Amazon Music (http://amzn.to/1XmnETY), and GooglePlay (https://goo.gl/SKXaYz).
As an international singer/songwriter, he has toured France, Peru, Ecuador, United Kingdom and Costa Rica. Most recently, Royce and his music have received attention from many top-tier news outlets and publications such as The Tom Joyner Red Velvet Cake Studios, CBN News, JET Online Magazine, RollingOut, The Tallahassee Democratnewspaper, CBS-affiliated show Great Day Houston, Radio One's The Nightly Spirit with Willie Moore, Jr. (now The Willie Moore, Jr. Show), and CBN's Turning Point Internationalamong others. Royce will perform in his hometown of Tallahassee on the ABC-affiliated WTXL Sunrise Show this morning.
His national debut album masterfully dresses his messages of social issues, love, self-reflection, and more in a progressive Urban infused style. Evidence of this can be found on the album's inspirational standout tracks "Write It on the Wall" (which has impacted Billboard's Adult R&B Airplay Songs chart), the call to action "Put Your Armor On," and the booming "Down 4 Whatever". WRITE IT ON THE WALL rings as a foretaste of the future of the genre Urban Inspirational. And, if the songs listed on the project are any indication, it's clear that Royce Lovett is the leader.
Royce will host a CD release listening party at The Warehouse (706 W Gaines St. Tallahassee, FL 32304) in Tallahassee, FL tonight. The event is FREE and starts at 8pmwith doors opening at 7pm. Stay connected with Royce by following him on Facebook.com/RoyceLovett; Twitter.com/RoyceLovett; Instagram.com/RoyceLovett; and his website at www.RoyceLovett.com.
Royce is currently on a 20+ city promotional tour in support of #WriteItOnTheWall. His upcoming dates are as follows below:
Tuesday, Nov. 3 – Wilson, NC
Wednesday, Nov. 4 – Gallatin, TN
Thursday, Nov. 5 – Rock Hill, SC
Friday, Nov. 6 – Milwaukee, WI
Saturday, Nov. 7 – Chicago, IL
Sunday, Nov. 8 – Chicago, IL
Tuesday, Nov. 10 – Evanston, IL
Thursday, Nov. 12 – Columbia, SC
Monday, Nov. 16 – Charleston, SC
Saturday, Nov. 21 – Wilmington, NC