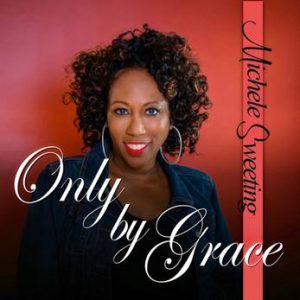 Vocal powerhouse, Michele Sweeting, has been dubbed "The New York City Songbird" because of her unique ability to deliver stunning performances. Whether it's on stage in Detroit or Atlanta, or overseas in Russia or Egypt or at her home church in Manhattan, she is known for her soul-stirring musical presentations. A lover of God and worshipper at heart, Michele has been inspiring believers for decades with her unapologetic praise. The preacher of the Gospel, psalmist and recording artist has just added to her repertoire with a brand new track called "Only by Grace." The song, a contagious melody of adoration, is currently available on iTunes, Amazon and all other digital music outlets.
"Only by Grace" is a mellow, but deeply inspirational tune. A reminder to believers that God's grace covers all, the track finds the Motor City Praise recording artist wrapping her captivating vocals around a sweet refrain. Highlighting both contemporary and traditional themes, she adds a few bars of the classic "Amazing Grace," melding the two tracks seamlessly. "Only by Grace" features a catchy chorus and a message that apparently resonates with Michele, as listeners will clearly hear her deliver an emotive performance throughout.
"My early days as a member of a praise team at a Harlem church, I used to lead the song often," Michele says about the origins of the song. "The former minister of music, Carl Phipps, penned 'Only by Grace' and when I sang it, there was something about the way the lyrics flowed from my mouth; I really felt a connection." The song and its message grabbed hold of her heart and wouldn't let go. She concludes by saying, "I want people to be reminded that we are only here by God's grace. Even when we stumble and fall, God's grace is ever present."
Michele has been graced with the gift to encourage through song. Her ability to execute flawless vocal performances started as a youth. The Native New Yorker is a former student of the famed Music and Art High School (LaGuardia High School for the Performing Arts). Gospel music fans became enamored with her music ministry with the release of her debut song, "Center of My Joy." The remake of the classic Richard Smallwood tune was played on stations throughout the Big Apple and placed at #1 on the city's Gospel charts, staying there for an impressive six weeks. Due to the demand, Central South picked up the project, also entitled Center of My Joy. Her sophomore record, Lamb of God, saw the singer spreading her wings as a new wife and mother and her music conveyed a new spiritual maturity in God. The project also solidified her standing as a Contemporary Gospel Recording Artist. Years later, she released "New Thing", an uplifting single which made its way to the Billboard Gospel Charts (Nielsen BDS Radio Charts). Now, her new single, "Only by Grace", will be included on the artist's third album, Just Believe, slated to drop later this summer.
Michele has been seen on Christian TV, appearing on programs such as Babbie's House, Atlanta Live and Hour of Harvest. She's sung in several states here in the U.S. and internationally including ministry opportunities in Russia, Egypt, Trinidad and Barbados. She is co-author of the anthology, It's Possible! Living Beyond Limitations and she is a licensed Evangelist under Dr. Raymond Rivera and the Council of Holistic Christian Churches and Ministries (CHCCM) in Bronx, NY. She, her husband, Rev. Louis DeCaro, Jr., Ph.D., and their son, Louis Michael DeCaro, are the founders of Loaves and Fishes Ministries. Future plans for the artist include a TV appearance on Bobby Jones Presents and a tour in Cuba.