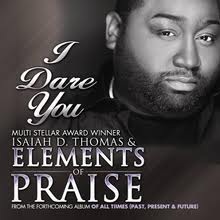 Minister Isaiah D. Thomas is back with his renewed single entitled, "I Dare You" and with the full album to be released nationwide this Fall under Bronx Bridge Entertainment, Inc. and F. Hammond Family Entertainment. Thomas' "I Dare You" which earned rankings within the top 25 on the Gospel Music Radio Charts is now available on iTunes and through other internet sources.
Thomas comments "2010 is behind me . . . the music which God has given me to share throughout the nation has been revitalized and will now be for all to hear."
Santiago Cook-Brown, President of Bronx Bridge Entertainment, Inc. says "For the first time, "I Dare You" is finally ready to be released across the country full speed ahead."
Minister Thomas' attorney Chris Brown of Brown & Rosen LLC is excited to have negotiated the deal and feels that the partnership between Fred Hammond and Minister Thomas will push this project and Thomas' career to another level. Brown states, "The praise and worship songs on this album will move masses."
"Isaiah is a wonderful artist and great songwriter" says Fred Hammond. "I look forward to working with him, Bronx Bridge, and Global Gospel Music." Isaiah is going to heat up the charts this Summer and the album will be ready to move this Fall."
Antonio Murchinson, President of Global Gospel says, "This is exactly the team and support we needed for this project". It's Isaiah's time to shine while still recognizing that God gets ALL the glory."
Minister Thomas is so grateful to God for all of the great things He has done and is yet to do. He is also thankful for all of the love shown by and through supporters, radio announcers, and promoters who continuously push him and request his music.