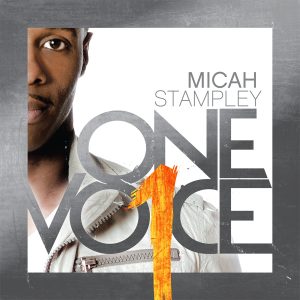 Music World Gospel/Interface Entertainment recording artist and international worship leader, Micah Stampley, will release his fifth CD, One Voice, in stores August 23, 2011. One Voice features 12 songs, including two interludes.  The CD is produced by Micah Stampley and co-produced by Cameron Sankey.  "Shout" and "Hosanna" will impact gospel radio in July.  The title track, "One Voice" will impact INSPO and CCM radio in July.
Micah brings each track on the CD vibrantly to life—from the thumping, joyful world-beat of "Hosanna," to "Shout," a celebratory, praise and worship song that calls believers to action because of their victory in Jesus Christ, which is a song that will resound in congregations around the globe. In writing songs for his new album, Micah didn't have to go far to work with his favorite collaborator. His wife, Heidi, co-wrote much of the album, including the potent title track, "One Voice."  "I wrote the music and Heidi wrote all of the lyrics for that song," said Micah. "She began to write the lyrics of that song: 'different colors, many expressions, but when we worship, we sing to an audience of one, we are salt and light, the world must see us unified,'" Micah says reciting the lyric. "It was just amazing to hear. She's such a poet. I feel that 'One Voice' is definitely my best album to date. I hope that by listening to this album people around the globe will experience a spiritual awakening and renewed passion in their relationship with God."
"We are very excited about Micah's new CD project, 'One Voice,'" said Mathew Knowles, founder, President and CEO of Music World Entertainment.  "This project demonstrates the depth and versatility of his extraordinary talent and will be another milestone in his career."
With a mix of international and national visits, Micah will kick off promo/concert dates in Africa, in Abuja and Port Hartcourt, Nigeria at the House on the Rock (June 24-June 26), where he will be performing songs from his new album. He will then head to London (June 28-July 1). After London, Micah will return stateside for the Music World Gospel Showcase at the ESSENCE Music Festival, where he will perform at the Ford Superlounge at the Louisiana Superdome on Sunday, July 3, alongside label mates, Trin-i-tee 5:7, Brian Courtney Wilson and Vanessa Bell Armstrong.  Doors open at 6:00 p.m. and showtime is 7:00 p.m. Micah will also perform at the Music World Entertainment/Beyond Productions booth (#220) at the Ernest M. Morial Convention Center on Sunday, July 3 at 11:00 a.m.  Other scheduled performances/appearances include Walmart, Verizon, and SIRIUS XM Satellite Radio, among others.
Following the ESSENCE Music Festival, Micah will perform and make numerous appearances during the International Auxiliaries Ministry Convention (AIM), July 5 through July 8 in Houston.  Micah is also a staff member with the Church of God in Christ's (COGIC) International Music department under the direction of Dr. Judith McAllister.
Named the 2004 Stellar Awards National Star Search winner, Micah Stampley is a musical prodigy who has been performing since the age of seven. He is widely known as an international worship leader and for his astounding bass-to-first soprano vocal range.  In 2005, Billboard magazine placed him on its Top 10 Gospel Music Artists list and AOL Black Voices included him on its roster of the Top 11 Gospel Geniuses.  Micah is married to Heidi, a kindred spirit with whom he now raises five children, ages six to 16. A partner in life and in music, they are the co-founders of Interface Entertainment and Operation I Believe, Inc., a 501 (c) (3) non-profit organization, launched in 2006 with platforms that include humanitarian and outreach initiatives.  Micah is a third-generation license preacher.
Micah Stampley's Tour Schedule
Monday, July 10, 2011
Long Beach Gospel Festival
Long Beach, CA
Wednesday, July 12, 2011
International Christian Retail Show
Georgia World Congress Center
Atlanta, GA
Thursday, July 13, 2011
Promo Date
New York, NY
Tuesday, July 19, 2011
Promo Date
Dallas, TX
Wednesday, July 20, 2011
Promo Date
Dallas, TX
Friday, August 5, 2011
Promo Date
Washington, DC
Saturday, August 6, 2011
Dancing Preachers Conference
Montego Bay, Jamaica
Thursday, August 11, 2011
Promo Date
South Bend, IN
Friday, August 12, 2011
Promo Date
Marion, IL
Monday, August 22, 2011
Promo Date
Houston, TX
Tuesday, August 23, 2011
Promo Date
Houston, TX
Friday, August 26, 2011
Promo Date
Atlanta, GA
Saturday, August 27, 2011
Promo Date
Atlanta, GA
Sunday, August 28, 2011
Promo Date
Atlanta, GA
Tuesday, August 30, 2011
Promo Date
Philadelphia, PA
Thursday, September 1, 2011
Promo Date
Lindenwold, NJ
Sunday, September 4, 2011
Promo Date
Dallas, TX
Saturday, September 10, 2011
Promo Date
Raleigh, NC
For performance, bookings or branding inquiries, please go to www.musicworldent.com
or call 713-772-5175 .