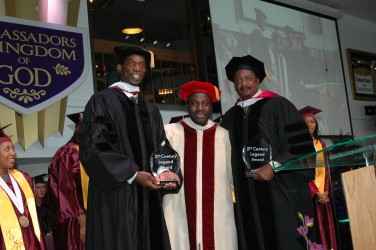 Mathew Knowles received an Honorary Doctorate Degree from Cornerstone Christian Bible College on Father's Day and delivered a Commencement Address on "The Ten Point Protocol for Success." The College's 17th Commencement Ceremony was held at the Destiny Dome Embassy at Cathedral of Praise International in Fort Wayne, Indiana.  A standing-room-only crowd of over 1,000 people attended the ceremony.
"Brilliance balanced with grace was personified by Dr. Mathew Knowles in his acceptance speech," said Dr. Oscar J. Dowdell-Underwood, Apostle and President of Cornerstone Christian Bible College. "Dr. Knowles' immeasurable contributions in the fields of culture, public service and the fine arts have impacted numerous lives in exponential ways. He has empowered so many through his extraordinary commitment to the development of human potential, gifts, and talents.  Millions of people around the world have been positively impacted by his unselfish deposit in the lives of others."
About 30 members of Knowles' family stood at the altar, in support and love, as the honorary doctorate was conferred upon him. The smiles on their faces and glean in their eyes revealed their sense of pride in his achievements.  During the commencement, Knowles was also awarded the 21st Century Legend Award alongside, Dr. A.C. Green, formerly of the Los Angeles Lakers.  During his commencement remarks, Dr. A.C. Green, who was deeply moved by Knowles' speech, referred to Dr. Knowles as one of his new heroes.
"June 17, 2012 was a very special day for me and one that I will never forget," said Knowles.  "Not only did I receive my second Honorary Doctorate Degree, but I had the rare opportunity to see several members of my family—many that I have not seen since my childhood in Alabama, and some I just met for the first time. I am profoundly grateful for the honor, the love and support of my family.  And it was especially humbling to meet and spend time with this year's graduates."
A visionary, a leader, an educator, and a philanthropist, Mathew Knowles, founder, President and CEO of Music World Entertainment, is an icon in the worlds of business and entertainment. Celebrating 20 years in entertainment, Knowles has built an entertainment conglomerate, with record sales exceeding 300 million worldwide. In 2002, Knowles founded Spirit Rising Music, which is now Music World Gospel, as a faith-based record and management company under Music World Music. Celebrating its 10th Anniversary, Music World Gospel is the largest owned and operated African American gospel label in the world.
Knowles is a 1974 graduate of Fisk University, where he earned both a Bachelor of Arts degree in Economics and a Bachelor of Science degree in Business Administration. He was bestowed with the honor of Doctor of Humane Letters by his alma mater at the University's 2008 Commencement Ceremony. He holds a professorship at Texas Southern University and is a popular keynote speaker and guest lecturer at colleges, universities and various organizations around the country. Knowles has garnered countless awards for his achievements in business and within the music industry, including an MTV Video Music Award. He is the recipient of the Century Award of Excellence (1911-2011) from the Omega Psi Phi Fraternity. He also received the 2011 Living Legends Foundation Award. He was named the "2007 International Executive of the Year" by the Greater Houston Partnership, and was honored by the City of Houston with the declaration of "Mathew Knowles Day."