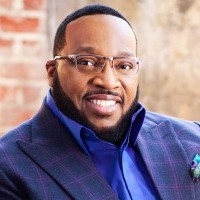 Newly appointed bishop and gospel music superstar Marvin Sapp has a hit on his hands with lead single, "Yes You Can," which currently holds the #1 spot on the MediaBase Gospel Singles Chart.  The hit song is from his latest #1 album, YOU SHALL LIVE (RCA Inspiration).
"Yes You Can" is an uplifting song that lets everyone know that no matter what, God will be there to get us through the tough times. With a contemporary edge that has the power to bring forth courage and empowerment, Sapp helps to invoke a strong sense of belief and will help individuals to triumph over whatever may be bringing them down.
Sapp teamed up again with longtime producer Aaron Lindsey on his newest album, YOU SHALL LIVE, creating a winning combination of exuberant anthems, contemplative tunes and unforgettable melodies that drive home a powerful message of triumph, garnering acclaim among peers and fans alike to mark his fourth #1 album debut.  With songs such as "Live," "Thank You for the Cross," "Beloved" and more, the 11-track offering inspires listeners to find strength through faith and to believe God will deliver us from life's storms.