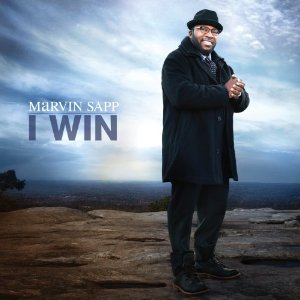 Marvin Sapp's new CD & DVD I WIN will be in stores April 3, and the CD can be pre-ordered now at iTunes, Amazon.com and Walmart.com. The project, recorded live at Evangel Cathedral outside of Washington, D.C., is the artist's first CD since the passing of his wife MaLinda – who died of colon cancer in 2010. As such, it is also the first live CD recorded outside of Sapp's Grand Rapids, Michigan, hometown. Still, I WIN is indeed a musical triumph, with 10 brilliant tracks that reinforce Sapp's sentiment that "because I endured, I won."
The first single, "My Testimony," is quickly approaching the #1 position at Gospel radio. "It is a transparent, introspective look at what I came through and how, in the midst of it all, I still maintained and am maintaining my faith," Sapp says of the single, which he co-wrote with Aaron Lindsey. "I think that's the difference…it is about how I realized that if it had not been for God being there in the midst of everything, I would have been taken out. 'My Testimony' is more about me sharing how I got through it, not just that I got through it."
The title track is a soul-stirring ballad that declares "I am an over comer/I know I can conquer anything/with Jesus I am an over comer/I can win…" The song was written by newcomers Brittney A. Wright and Joshua A. Lay.
A few new songwriters are showcased on I WIN, because Sapp issued a call via Facebook and Twitter for song submissions. He listened to more than 2,000 songs before finding a few that represented the tone of this CD. "I think part of my assignment is to give unknown writers and opportunity to be heard on a national scale," says Sapp, who has always given a chance to up and coming songwriters. "My prayer is that their names and work will now become a little more prominent."
An impromptu medley of hymns that Sapp launched into during the live recording provides a special treat on the CD. "The Hymns Medley" opens with "I Need Thee Every Hour," and then finds Sapp shifting between Andrae Crouch's classics "Bless The Lord," "Can't Nobody Do Me Like Jesus" and "The Blood Will Never Lose Its Power," concluding with "There's Power in the Blood" and then a mini-sermon that demonstrates why Sapp says he is a preacher who happens to sing: "Because He's brought me out of some stuff, I've got a right and a reason to give God some glory," Sapp squalls, his voice stretching throughout the cathedral as the church audience screams its agreement. It is an authentic church moment captured on CD. "I grew up on hymns, and my mom taught me almost every hymn I know," says Sapp. "When we were doing the recording, the hymns medley just happened. We were transitioning between songs, and I just started singing hymns. It wasn't supposed to go on the record; it was just things I grew up listening to from traditional hymns to Andrae Crouch. And we just went back and forth and people were blessed by it and I enjoyed doing it," says Sapp of the medley.
I WIN is Marvin Sapp's 9th solo recording. He first hit the national stage in 1990 as a member of the groundbreaking group Commissioned. The group disbanded around 1996 and Sapp launched his solo career. After a string of Top-Ten radio hits and a considerable following in Gospel music, Sapp saw unprecedented mainstream success in 2007 when a song that started out as a spontaneous moment of worship became a runaway hit at radio. The song, "Never Would Have Made It," went on to become the #1 most played song of any genre at radio, and was the first Gospel song to sell 1 million ringtones. The rest, as they say, is history.