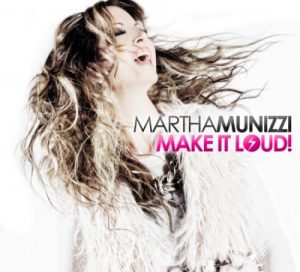 Martha Munizzi, a favorite of Gospel Music lovers, recently dropped her new CD, Make It Loud.  A musical collection of spirited and unforgettable songs (and including some very special guests), the project has already has already hit the Billboard Charts.  Munizzi, a multiple award-winning artist and dynamic worship leader, debuted on Gospel Music's most coveted chart, the Billboard Top Gospel Albums Chart at #6.
In addition, Make It Loud entered Billboard's Top Christian Albums Chart at #11, the Top Independent Albums Chart at #27 and the Billboard Top 200 at #140.   She also secured a spot at #115 on the Billboard Top Current Albums.  Martha Munizzi is no stranger to the Billboard Charts and is known as the best-selling independent Gospel artist.  Also, she has been named by the music industry trade publication as one of the Top 5 Artists in Gospel Music.
Munizzi says, "I'm so excited that my new CD 'Make It Loud' is #6 on the Top Gospel Billboard Charts this week! We've received amazing emails, FB posts, Tweets and reviews from people from all over the world who have purchased the CD. I can't wait to see what's next!!"
Her kick-off week began with appearances on the Trinity Broadcasting Network and the DayStar Network as well as appearances in Dallas, Baltimore and Washington, D.C.  Upcoming appearances include the cities of Orlando, Miami and Memphis.
Make It Loud includes songs like the rousing lead single, "Excellent", the reverent "No One Higher" and the affirmative, "My God Is A Big God."  A declarative project about making our voices loud for the Lord, the CD includes guest appearances by William McDowell, Michael Gungor, Jonathan Stockstill, Lori Morrison, and Daniel Eric Groves and introduces Danielle Munizzi, daughter of Martha and Dan Munizzi.  Recorded live in Kissimmee, Florida, Make It Loud is the artist's sixth project.
Martha is known for skillfully merging the feel of gospel and the energy of worship.  She's captured the hearts of Gospel music lovers with songs like "Say The Name", "Glorious", "Because Of Who You Are" and "Jesus Is The Best Thing (That's Ever Happened To Me)".  The GRAMMY Award Nominee and Dove and Stellar Award winner's new release, Make It Loud, is available on iTunes and at retailers nationwide.
For more information on Martha Munizzi, log on to www.MarthaMunizzi.com.