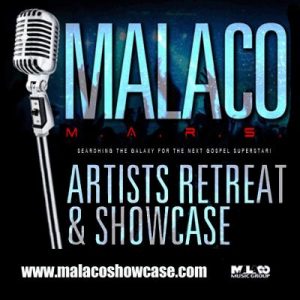 The Malaco Music Group is proud to announce the return of the Malaco Artists Retreat & Showcase (M.A.R.S.)February 20 – 22, 2014, center court in the  newly renovated Metro Center Mall, 3645 Highway 80 West in Jackson, MS 39209.
The Malaco Artists Retreat & Showcase (M.A.R.S.) is a national singing & performance competition developed to give unsigned artists an opportunity to showcase their talents, win prize money and receive a recording contract with one of the Malaco Music Group family of labels.
There will be panel discussions conducted with veteran industry professionals in the areas of Gospel Radio, Marketing, Radio Promotions, Public Relations, Distribution, Booking & Management, Concert Promotion, Studio Production, Songwriting, Publishing, Copyrights, and How To Succeed in Today's Gospel Music Industry. It will be a great learning and networking opportunity!!! (Panelists to be announced)
Be sure to attend the Malaco Artists Retreat & Showcase 2014 (M.A.R.S.) kick off live recording and videotaping Thursday, February 20, 2014 that will feature Gospel Legends of Quartet such as Harvey Watkins, Jr of The Canton Spirituals, Clay & Cleve Graham of The Pilgrim Jubilees, Thomas Spann of The Brooklyn Allstars, Willie Rogers of The Soul Stirrers, Horace "Sug" Thompson & JoJo Wallace of The Sensational Nightingales, Percy Griffin of The Swanee Quintet and Spencer Taylor Of The Highway QC's.