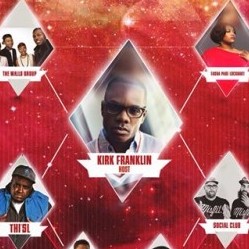 A few days ago, Kirk Franklin announced his participation in this year's South by Southwest (SXSW) Music Festival. The Gospel visionary tweeted, "We're making God famous this year @SXSW pretty epic!", accompanied by a flyer for the actual event, "The Kingdom Experience".
Alongside Kirk will be his Fo Yo Soul Entertainment family, Tasha Page-Lockhart and The Walls Group. Other artists scheduled to perform at the event includes Thi'sl, Adia, Da' Truth and tons more. It all takes place at the Promiseland Church in Austin, Texas, on March 20, 2015!
We're making God famous this year @SXSW pretty epic! pic.twitter.com/PWYO2EI5um

— Kirk Franklin (@kirkfranklin) March 10, 2015
This year marks the 28th anniversary of the SXSW Festival. The unique festival offers a convergence of original music, independent films, and emerging technologies. Fostering creative and professional growth alike, SXSW is the premier destination for discovery.
Year after year, the event is a launching pad for new creative content. New media presentations, music showcases and film screenings provide buzz-generating exposure for creators and compelling entertainment for audiences.
Conference panel discussions present a forum for learning, business activity thrives at the Trade Shows and global networking opportunities abound. Intellectual and creative intermingling among industry leaders continues to spark new ideas and carve the path for the future of each ever-evolving field, long after the events' conclusion.