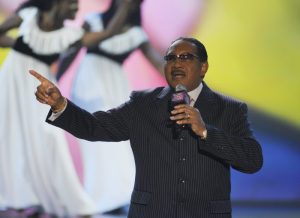 Now that the very last episode of "Bobby Jones Gospel" has aired after a 35-year run, gospel music artists are speaking up about its impact.
On the series finale which aired on BET July 31, Kirk Franklin, Fred Hammond, Vickie Winans, Hezekiah Walker, Yolanda Adams and the Chicago Mass Choir paid tribute with performances. After the show, a number of people took to social media to reveal the impact that Grammy Award-winning singer Dr. Bobby Jones and his television show had on them.
Gospel music artist James Fortune showed his gratitude to Jones for giving him a platform in the form of the popular BET show.
"Thank you Dr. Bobby Jones for 35 years! I can't thank you enough for the platform that you shared with me," Fortune tweeted. "Thank you @BET @BETGospel."
Kirk Franklin kept his message of gratitude a bit more simple by tweeting,"Dr Bobby Jones……thank you."
Fellow gospel artist Kurt Carr believes all gospel music artists should be singing the praises of Jones after a historic run on network television.
"Every major gospel artist owes a huge thank you to Dr. Bobby Jones for giving us a platform to be seen! THANKS Dr Bobby Jones for giving #GospelMusic a face," Carr tweeted. "You shared your platform for 35 historic years! There's only ONE Dr. Bobby Jones! A groundbreaking, innovative pioneering personality for Gospel!"
Jones previously spoke to the New York Times about the effect of ending his show will have on people.
"There will be a void for this type of representation," he said in a New York Times report last August. "That's why there's so much confusion and so much dismay from this particular population of people. They're like, 'What?!' "
Jones previously told The Christian Post that his faith has been a key factor in his show's survival for three decades.
"My faith has kept me there because I understand that faith is the substance of things hoped for and the evidence of things not seen. I quote those passages and do that with an understanding, so I know that faith is essential for anything to develop," Jones told CP in an earlier interview. "In the Christian world you must have faith, so I understand that. That's how it undergirds my ability to go forth in that manner."