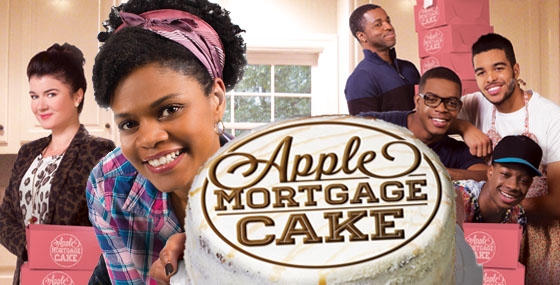 UP, America's favorite channel for uplifting family entertainment, presents the UP Original Movie Apple Mortgage Cake, the inspiring true story of Angela Logan who when faced with foreclosure set a goal to bake 100 cakes in 10 days to save her home.  Starring four-time NAACP Image Award winner Kimberly Elise ("Diary of a Mad Black Woman", "For Colored Girls", "Grey's Anatomy") and produced by Entertainment One (eOne).  Michael Scott ("Mrs. Miracle," UP's Far From Home) directs the film from a script by Jamie Pachino ("Franklin & Bash").  Apple Mortgage Cake will premiere exclusively on UP on Easter Sunday, April 20 at 7:00 p.m.
The ensemble cast also includes Kevin Hanchard ("Orphan Black," "Suits"), Lamar Johnson ("The Next Step", Home Again), Stephan James ("Degrassi: The Next Generation," Home Again), A.J. Saudin ("Degrassi: The Next Generation," "Da Kink in My Hair"), Gemini Award winner Gabrielle Miller ("Corner Gas," "Call Me Fitz), Joanne Boland ("Copper," "Lost Girl"), Paul De La Rosa ("The L.A. Complex," "Covert Affairs"), Gemini Award winner Catherine Disher ("The Border," "Flashpoint"), Peter Williams ("Stargate SG-1," "Da Kink in My Hair"), Siobhan Murphy ("Rookie Blue," "Men With Brooms"), Barry Flatman ("The Kennedys," "Defiance"), Darlene Cooke ("Saving Hope," "Da Kink in My Hair") and Millie Davis (The Best Man Holiday, "Orphan Black").  The real-life Angela Logan makes a cameo appearance.
Angela Logan (Kimberly Elise)is a single, working mom with three teenage boys, Marcus (A.J. Saudin), William (Stephan James) and Nicolas (Lamar Johnson) in Teaneck, NJ.  She juggles various jobs and helps with employment counseling at the local Mission.  While thrilled to be in the family home where she learned to bake, the house is falling apart, with sections deemed uninhabitable by inspectors after storm and flood damage.  She has always made due until now – when her lender calls in the mortgage loan and puts her into foreclosure.  Angela has 10 days to come up with $4000 or lose her home.
This is the true story of a woman who decides to bake 100 apple cakes and sell them at $40 each in order to save her home – and how this idea completely changes her and her family.  As word of her "bake sale" ripples out through neighbors, friends, her church and even old flames, such as Melvin (Kevin Hanchard), the story soon spreads to the news, locally, nationally and internationally.  Angela is taken off guard by the overwhelming support.  But soon, this fiercely independent woman learns to depend on the kindness and love of others that comes her way.
"Apple Mortgage Cake is the inspirational, real-life story about how one good idea – plus several bushels of apples, sugar, flour and butter — helps a family rise from financial disaster in the worst of the recent recession," said Leslie Glenn Chesloff, executive vice president of programming, UP.  "Angela Logan went from home foreclosure to 'overnight' national success as her homemade apple cakes helped her build a prosperous apple cake business.  We think this is a perfect movie for our viewers in April, especially on Easter Sunday."