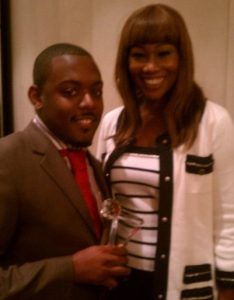 Khalif M. Townes, a leading entrepreneur in the Faith-Based Community and Gospel Music Industry, was honored with a Crystal Mic Media Award for his uGospel eBlast (formerly known as Urban Roundup eBlast) services. He received the award at this year's Gospel Music Workshop of America (GMWA) /Gospel Announcers Guild (GAG) in Tampa, Florida on August 18, 2011. A Crystal Mic Media Award is an accolade that any media personality within the industry would be honored to have on their list of accomplishments.
"The Crystal Mic Media Award puts the icing on the cake to our 10 year anniversary of providing service to the Faith-Based Community and Gospel Music Industry. It's an honor that I'm proud of, yet it's also a reminder to work hard every day for my dreams to continue to come true," says Townes.
The Gospel Announcers Guild (GAG) of the GMWA is one of America's most honorable and recognized organizations servicing the Gospel Community. Their Crystal Mic Media Awards are given to salute the efforts of dedicated media organizations and personalities who show devotion and excellence in their annual service to the Gospel industry.  Townes, President of Urban Roundup Group, LLC and its subsidiaries, won his Crystal Mic Media Award for "eBlaster of the Year".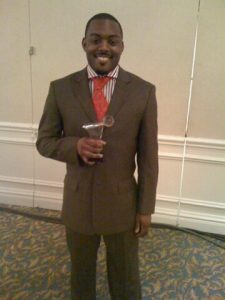 Using Urban Roundup Group, LLC, Townes has been servicing the Gospel Community for 10 years, perfecting his craft of email marketing among other services.  August 14, 2011 marked the 10 year anniversary of Urban Roundup Group, LLC and a new beginning for the company. The past decade was spent building an email list of 320,000 unique subscribers after a strategic partnership with GospelCity.com, making joint business ventures, sending countless eBlasts and providing an outlet for those interested in the latest and greatest within the Faith-Based Community and Gospel Music Industry.
Townes has been working to expand his empire since his humble beginning. Initially, Townes began his business in his grandmother's living room 10 years ago. However, his hard work and dedication turned his dreams into a reality. Townes went from operating in a family member's living room, to having a large office space in Center City Philadelphia.
"Everyone has to start somewhere. I'm not ashamed of my beginning because it allowed me to appreciate all the opportunities that came my way. And now I can say I'm proud to be who I am, doing what I love, and serving God," Townes says.
Today, Urban Roundup Group, LLC is an umbrella company with subsidiary businesses. These unique and innovative businesses include uGospel.com, an online news portal dedicated to providing influential news and information to the community, Sermons365.com, a 24-hour online radio sermon broadcasting network, and 215Flyers.com a Printing & Graphic Design Service.
FOR MEDIA & MANAGEMENT, Please Contact Shine Consultants : 267.328-4592