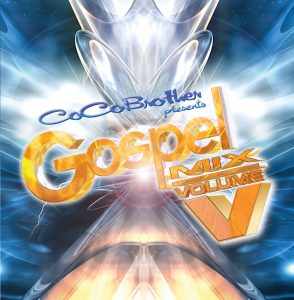 BILLBOARD'S #1 INDIE GOSPEL CEO KERRY DOUGLAS
TO RELEASE "COCO BROTHER PRESENTS GOSPEL MIX V"
Featuring Radio Hits By New Generation of Gospel Stars
Double CD Showcasing Zacardi Cortez, Earnest Pugh, Lonnie Hunter,  Bryan Wilson, Preashea Hilliard And Others Hits Stores October 11th.
"We're breaking the hits," says Black Smoke Music Worldwide CEO Kerry Douglas of his trailblazing and best-selling Gospel Mix compilation CD series. "We're producing tomorrow's classics today." As a part of his innovative marketing tactics, Douglas has tapped the hottest young DJ in gospel music, Corey "CoCo Brother" Condrey, to host and be the face of the  fifth installment entitled, CoCo Brothers Presents Gospel Mix V.
"With this series we take new or established artists with no recent hits and give them that big hit song," says Douglas. "This series made James Fortune and Earnest Pugh #1 artists. This new CD will make Bryan Wilson and Zacardi Cortez the next big artists in gospel."
The double-CD set features Earnest Pugh's #2 smash "I Need Your Glory" that is poised to top the Billboard Hot Gospel Songs chart. In fact, the CD features two alternate versions of the song  by James Fortune & FIYA led by William Murphy and another by Zacardi Cortez. Speaking of Cortez, he also steps into the spotlight with John P. Kee for the rousing ballad, "One More Time." Grown-up child gospel star Bryan Wilson shows off a mature new sound on the smooth anthem, "Expect You Now."
A new generation of young women such as Preashea Hilliard, Yunek, Tamika Patton, Shea Taylor and Tarkisha Poole offer songs of praise. Veterans like quartet king Keith "Wonderboy" Johnson, balladeer Shawn McLemore, James Fortune, Tye Tribbett, The Brown Boyz, and choirmaster Lonnie Hunter & Structure also contribute their latest chart hits. Even Condrey contributes a song, "What'cha Know About Jesus." Condrey hosts a late night syndicated radio show and is also host of Black Entertainment Television's (BET) "Lift Every Voice" weekly program. For almost two decades, Douglas has been known for breaking hits such as Earnest Pugh's #1 "Rain On Us" and James Fortune & FIYA's "I Trust You" that spent 29 weeks at #1 on Billboard's Hot Gospel Songs chart.