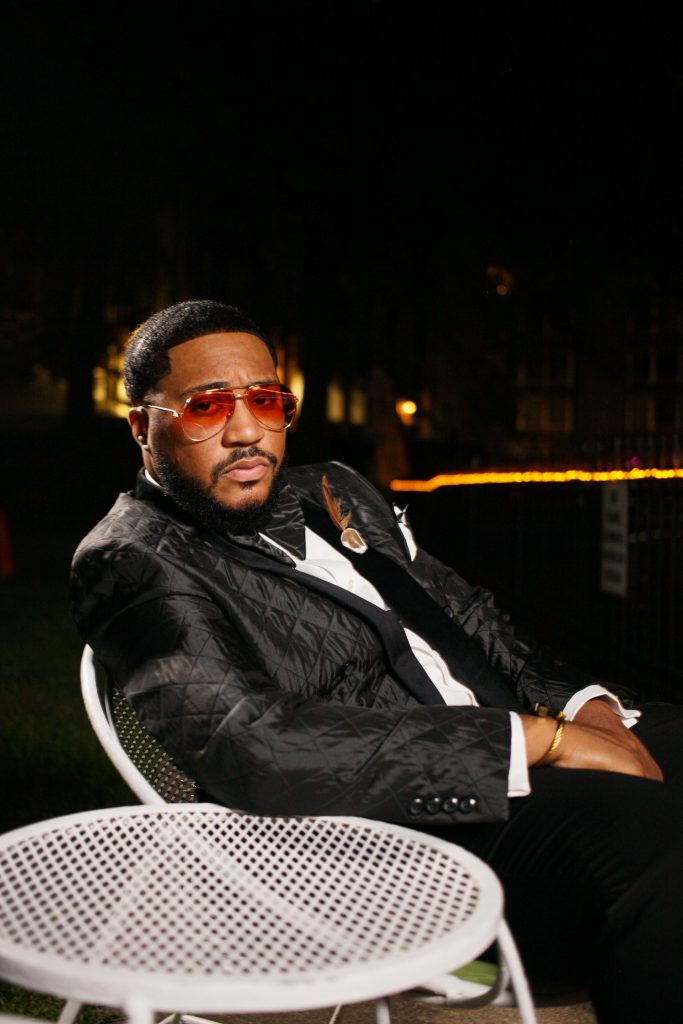 Powerhouse record label, Karew Entertainment, is presenting their newest artist, urban inspirational singer, Marc Jay. Marc Jay joins the Karew roster with label mates The Clark Sisters, Karen Clark Sheard, and Kierra Sheard. When asked about the new addition, Karew Entertainment President J. Drew Sheard II says, "I'm so excited to partner with Marc Jay on his next project. He has been a part of our family for many years, supporting us, writing songs, singing background, and more, and now it's his time. We are so proud of him!"
Marc Jay may be new to the label, but truly not new to the Clark/Sheard dynasty. Prior to releasing his own music, Jay recounts the first time singing background for the legendary Twinkie Clark at a church in Battle Creek, MI, "I was so nervous, but afterwards she said 'good job son' and kept using me more! I was so excited!" After ministering with Twinkie Clark, he began singing background for Karen Clark Sheard as well as The Clark Sisters, and then finally Kierra Sheard. "Kierra is like a sister to me," he says. He recounts when she started the choir, Bold Right Life (BRL), and he was very instrumental helping to run and grow the choir. "She used to have a youth conference and I used to organize the choirs, pick the songs, pick the leads, organize the communications, fly people in, everything. That was my job for 6 years…"
Now Marc Jay is stepping from the background into the forefront with new music. "I want anyone who listens to my music to know that they can do anything they put their minds to." He continues, "…one of my favorite songs to perform is the song, 'Be You' and the title says it all. Be exactly who God created you to be because you are beautifully and wonderfully made in His image and no one can take that away from you."
ABOUT MARC JAY
DETROIT NATIVE WORSHIP LEADER, MINISTER, MUSICIAN, AND BACKGROUND VOCALIST, MARC JAY IS A BUDDING INDEPENDENT ARTIST CALLED TO REACH THE LOST AND INSPIRE A GENERATION TO FOLLOW CHRIST THROUGH GOSPEL MUSIC. AS A MINISTER, HE SERVES AT HIS LOCAL CHURCH IN THE CITY OF DETROIT WHERE HIS FATHER IS HIS PASTOR. HE ALSO SERVES AS A WORSHIP LEADER AND MINISTER OF MUSIC AT HIS LOCAL CHURCH AND ACROSS THE STATE. THROUGH THE TEACHING OF HIS MOTHER GABRIELLE BRITTON – JOHNSON.
MARC JAY HAS WORKED WITH COUNTLESS ORGANIZATIONS, CONFERENCES, AND CHURCHES OVER MANY YEARS TRAINING WORSHIP TEAMS AND CHOIRS AND REVAMPING THEIR MUSIC DEPARTMENTS TO EXHIBIT AN UNMATCHED SPIRIT OF EXCELlENCE, SPIRIT-FILLED MINISTRY AND PROFESSIONALISM. AS A BACKGROUND VOCALIST, HE HAS AND CONTINUES TO WORK WITH ARTISTS SUCH AS THE CLARK SISTERS, KIERRA SHEARD, KAREN CLARK SHEARD, DORINDA CLARK COLE, BRYAN POPIN AND MANY OTHERS.
STEPPING OUT OF THE BACKGROUND AND TO THE FOREFRONT, MARC JAY HAS CAPTURED AUDIENCES ACROSS THE STATES WITH HIS CURRENT SINGLE "VICTORY" FROM HIS EP ENTITLED, "I AM GOD". HE RECENTLY RECORDED HIS FIRST LIVE RECORDING, TO BE RELEASED FALL 2018, IN FRONT OF AN AUDIENCE OF MORE THAN 2,000 PEOPLE! MARC JAY INTENDS TO CONTINUE LEADING AUDIENCES ACROSS THE WORLD TO THE CROSS AND INSPIRING HIS GENERATION TO LIVE A LIFE PLEASING TO THE LORD WHILE STILL MAINTAINING A FUN AND ENJOYABLE ATMOSPHERE WITH HIS MUSIC.