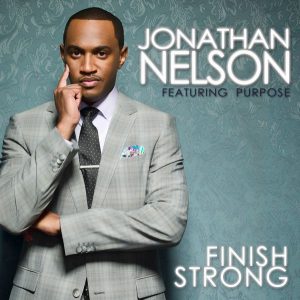 Recently, Karew Records announced the upcoming release of Jonathan Nelson's first album on the label, Finish Strong.  Now, the singer has released the cover art and tracklist for the project, which is set to hit stores on April 23, 2013. The album's title single, "Finish Strong," is available on iTunes and other online retail outlets.
Nelson co-wrote most of the songs on the CD, which has something for every musical taste, from traditional church songs, to praise and worship, to choir songs. "My dad is more traditional and he always says 'son, you can't forget the old people,'" says Nelson. "I also wanted something that my son and daughter will be able to sing and rock to in the car. I want my music to be palatable to everybody, so I like to take a well-rounded approach to gospel music."
"Finish Strong" by Jonathan Nelson
[media url="http://ugospel.thatstruemedia.com/wp-content/uploads/2013/03/JonathanNelsonFinishStrongRadio.mp3″ width="500″ height="200″]
Finish Strong includes "Worked It Out," a song penned by Nelson as a tribute to Walter Hawkins and the Hawkins family. The song features Karen Clark Sheard. "Walter Hawkins left such great music," says Nelson. "I felt Karen would be the best person to join me on this song to give it that family dynamic that the Hawkins always had." Nelson believes people will really be blessed by the song, which reassures the listener that everything concerning them has already been worked out by God.
 Finish Strong Track List:
1. Dwell In Me
2. Finally
3. Finish Strong
4. Flow
5. Free
6. God Is Blessing
7. Just For Me
8. Live Pure
9. MNIV
10. Worked It Out ft. Karen Clark Sheard
11. Yes Lord