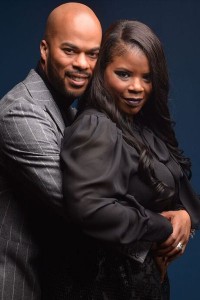 Just a week ago, JJ and Trina Hairston took time out to talk to uGospel's Clifton Ross, III about "Amazing Love". JJ and Trina have been together since they met as teens in 1989. Twenty-one years of marriage and three children later, the Hairstons are sharing their knowledge for a successful marriage through their counseling ministry.
In the Video below, JJ and Trina explains what the Amazing Love Ministry is and how they will help build up Marriages.
For More Information about Amazing Love Log On to www.AmazingLove.Love
James "JJ" Hairston (best known as musical director, principle songwriter and front man for the acclaimed contemporary gospel choir Youthful Praise) began courting his wife-to-be Trina in November 1989.  Their courtship began not long after the young couple first met while members of their local church choir, teens of TFT, which came out of the Turner Faith Temple in Bridgeport, Connecticut.
JJ and Trina felt an immediate spiritual kinship and bond and fell deeply in love.  Experiencing a mutual profound love for each other, for gospel music and for the good news the music proclaimed, JJ and Trina began their life ministry together.  Shortly after graduating from high school, the young couple secretly eloped and became man and wife, with the local justice of the peace presiding over the ceremony.
Bound to matrimony as love-struck teenagers, without the benefit of counseling or instruction on the responsibilities of a lifetime commitment, JJ and Trina faced many real world difficulties.   Along with the increasing success of Youthful Praise was the hidden thoughts of divorce.  However, as their love and maturity grew for Christ and the ministry, they became closer to each other and began the process of healing their relationship and marriage.  Reconciling their differences and recommitting to the love that had brought them together in the first place, JJ and Trina are celebrating 21 years of marriage.  "God has amazingly reconstructed and restored our marriage, and we believe he will do the same for you if you allow him too."
JJ and Trina are the proud parents of three children: James L. Hairston IV (19 years old), Janay L. Hairston (12 years old) and Jayelle L. Hairston (5 years old).  The Hairston family has recently relocated to Maryland where JJ serves as the Director of Music at the City of Praise Family Ministries under the leadership of Bishop Joel and Pastor Y'lawnda Peebles.
Both JJ and Trina are Associate Ministers at City of Praise.  Trina Hairston has received a certificate of completion from Light University for their Marriage Works program and has also completed her studies as a Certified Marriage Coach.
JJ and Trina remain committed to each other and to the ministry of Youthful Praise and Amazing Love.