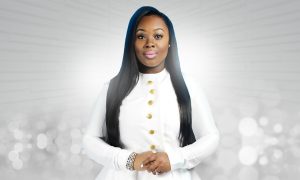 The time has come! Fans across the country and around the world can pre-order Jekalyn Carr's forthcoming release, entitled 
The Life Project
, and solidify their place among the first of those to hear the ground breaking new project from Gospel Music's prophetic princess.
The pre-order of The Life Project is a clear sign that fans are one step closer to a career-defining release from Carr, and one of the most highly anticipated releases of 2016. Three (3) key tracks will be immediately available for advance purchasers, the balance of the project will become available upon the album's official release date, and the blessings contained therein are sure to last a lifetime.
The newly minted Top 5 lead single, "You're Bigger," has been blessing listeners since it debuted the night of Carr's live recording in Memphis, TN. That night, it was apparent that, not only was the song a clear and immediate fan favorite, but also that it would be a blessing to all those who heard it. Since then, it has been serviced to radio stations across the country, where it continues to gain momentum and take its place as one of the biggest songs of 2016, made evident by its ascent up the Gospel charts and the testimonies that have been continuously pouring in, in response to its bold and faithful declaration of God's presence and power. The song will be immediately available for all those who participate in the pre-order, along with two other standout tracks; "You Are Our Joy" and "You Spoke Over Me." 
Already touted as Carr's "coming-of-age" project, The Life Project has become one of the most highly anticipated releases of the year. Fans have been clamoring for more since reports of the recording and first listens to "You're Bigger." Their prayers have now been answered via this pre-order available wherever digital music is sold!