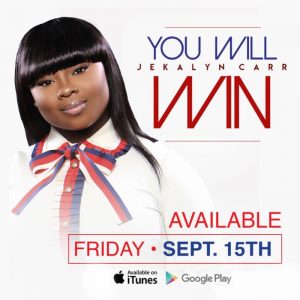 Jekalyn Carr has enjoyed a very productive year, thus far, in 2017. Adding "Actress" to her already impressive list of credits, Carr recently made her debut appearance on the ground-breaking OWN original series, Greenleaf, to critical acclaim. Carr held her own, sharing a scene with the show's rising starlet, Deborah Joy Winans and newcomer, Sean Dominic, portraying a young-yet-determined recording artist discussing plans for a song on which the three were collaborating. In a case of life imitating art, Carr is one of the recording artists featured on the Season 2 soundtrack for Greenleaf, which was released on September 8th. Carr's contribution to the soundtrack is a stunning original song, and a clear project highlight, titled "Hold Me Close."
This weekend, Carr and the star-studded McDonald's Inspiration Celebration Gospel Tour 2017, will make stops in Atlanta, GA and Birmingham, AL. The longest running brand-owned Gospel concert tour is scheduled to be in Carr's hometown of Atlanta this Thursday, September 14th, and Birmingham, AL on Friday, September 15th. Carr will be sharing the stage with some of Gospel music's elite, including Donald Lawrence & Company, Tye Tribbett, Brian Courtney Wilson, Anita Wilson, Paul Porter, and Bishop Paul S. Morton.
"You Will Win," the debut single – and title track – from Carr's forthcoming album, is currently impacting radio charts and encouraging believers across the country. The song spent two weeks as the #1 most added single, nationwide, and will be available for purchase, digitally, wherever Gospel music is sold on Friday, September 15th.
Carr also penned her first book this year, to reinforce and reiterate the inevitable victory that has been predestined for believers, according to God's word. You Will Win: Inspirational Strategies to Help You Overcome, a collection of Carr's most poignant and powerful exhortations, inspirational messages, and strategies designed to promote a victorious life in Christ, is slated for a 2018 release.
Undoubtedly busy, focused, and working hard, Carr also has opportunities to enjoy the fruits of her labor. Coming off of her first Grammy Award nomination and two Billboard Music Award nominations, Carr has also been announced among the 2017 GMA Dove Award nominees for Traditional Gospel Recorded Song of the Year.
With a little more than three months left in 2017, it remains to be seen what else Carr will manage to accomplish before the year's end.