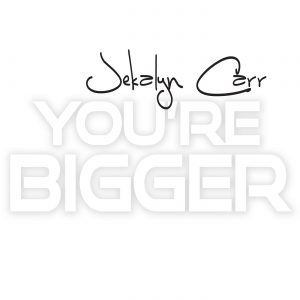 By popular demand, Gospel's powerhouse prodigy, Jekalyn Carr, prepares to release her newest hit single,
"You're Bigger,"
on Friday, March 25
th
.
"You're Bigger"
is the latest musical offering from Carr, and is the lead single from her forthcoming live CD, entitled
The Life Project
, slated for release later this Spring.
The dynamic song, recorded before a captivated audience during Carr's first-ever live recording, captures her in her natural element, at the intersection of infectious music and profound ministry. Despite her age of a mere 18 years, Carr has made a name for herself as one of the most prolific evangelists of this faith generation.  This was made evident, again, as she ministered "You're Bigger" with conviction and compassion, making it clear to everyone in the room that the track was the one to lead the charge towards her next full-CD release.
"You're Bigger" has been met with critical acclaim since it first fell upon blessed ears that historic night in Memphis, TN. Since then, the song has been serviced to Gospel radio outlets across the country and has rapidly taken its place amongst the genre's most popular and beloved songs. After just two weeks, "You're Bigger" entered Bilboard's Top 40 chart, and has since continued its steady ascent.  Currently, the single is showing strength and tenacity as it sits in the Top 20 on both Mediabase (at #18) and BDS (at #20) reporting charts.
Carr has been promoting the single by visiting various cities and appearing at key events, delivering show-stopping performances of the song for captivated and compelled audiences, most notably at the 31st Annual Stellar Awards Pre Show in Las Vegas, NV where she dazzled attendees, including fellow artists, industry executives, Radio personnel, and consumers alike.
"You're Bigger" is a song of God's sovereign power and presence, and is perfectly themed for release during Holy Week, when Christians, worldwide, honor and celebrate Christ the King. Carr reminds listeners that God is bigger than their problems, larger than their circumstances, and stronger than their burdens in a way that only she can. The single will be available, wherever digital music is sold, just in time to serve as the soundtrack of the universal retelling of the Lord's ultimate sacrifice and victorious resurrection.
This Good Friday, March 25th, join the chorus. Download "You're Bigger" and let it serve as a reminder for yourself – and for the obstacles in your life – that God is the greatest power, and is Bigger than whatever it is that you may be facing.