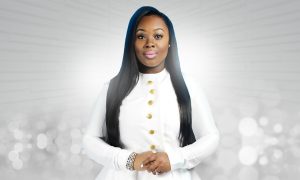 Jekalyn Carr's debut live recording, THE LIFE PROJECT is a mere three weeks away from its August 5th commercial release date, and the buzz around the highly anticipated project is steadily building, as evident by the response to, and the performance of, the album's lead single, "You're Bigger." "You're Bigger" was a clear standout the night of Carr's recording concert in Memphis, TN and has since blessed millions of listeners, worldwide, with its potent message of God's power, presence, and promises.
For the past five weeks, "You're Bigger" has maintained the #2 spot on Billboard's Gospel Airplay chart, making it the second most popular Gospel song in the country. Even more, at a time in the music industry when radio play does not always equate to sales, "You're Bigger" defies that trend as it has also achieved the recognition as the #2 most streamed and the #3 most downloaded single in the nation.
These stats are a testament that the single is both a timely, and necessary, reminder of God's power and sovereignty. In such troubling and uncertain times, the world needs to know that God is "…bigger than the universe …bigger than the sun and the stars …bigger than the things that can tear me apart." states Carr.
Carr is on a mission to spread this poignant message to every open ear and every receptive heart. She will appear and perform "You're Bigger" on the premiere season of BET's forthcoming and much buzzed-about Inspirational show "Joyful Noise", hosted by Two-Time Grammy winner, Tye Tribbett.
Also, in conjunction with the release of THE LIFE PROJECT, she is planning a free two-day release event at Bethel Baptist Church in Birmingham, AL, on August 4th and 5th, entitled The Life Project: Revival Tour. During this epic gathering, Carr will share the stage with Cora Jakes Coleman, daughter of Bishop T.D. Jakes, and fellow Gospel luminaries Casey J, Todd Dulaney, and many more, all speaking life over, and pouring into, the lives of everyone in attendance. Admission is free and hotel accommodations are available city wide.