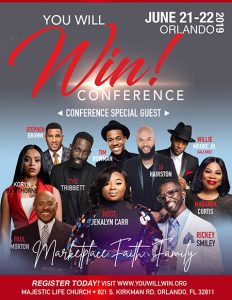 Jekalyn Carr – internationally acclaimed and award-winning artist/author/actress/speaker/
entrepreneur – has announced special guests for her second annual "You Will Win" Conference. The event will be held June 21 – 22, 2019 in Orlando, FL.
Carr is excited to welcome Tim Bowman, Stephen Brown, Maranda Curtis, JJ Hairston, Koryn Hawthorne, Willie Moore Jr., Paul Morton, Rickey Smiley, and Tye Tribbett to the conference as her special guests.
Full conference details, including registration and schedule, can be found at 
www.YouWillWin.org
.
The conference is a natural extension of Carr's ministry – existing to embolden and inspire the people of God to live their most abundant life. If you are an entrepreneur or work in any category of business, management, music, self employment, and want to know how to create a successful environment for you and your family, this is the conference for you! Get ready to be empowered and educated on what you need for your vision to soar – through panel discussions and workshops lead by speakers and leaders who are experts in their industry.
Topics to include:
Winning in Business
Winning in Finances
Management
Faith in the Marketplace
Networking
Empowering Families
Marketing
Pursuing your Vision
Branding
and much more!
New this year will be a very special Honorary Gala banquet to celebrate Carr, her ministry and accolades, presented by her industry peers, friends and family. The banquet will include dinner, music, special guest appearances, and more!
Independent artist, Carr, has taken the industry by storm with her rising success. Since her break-out single in 2013, "Greater Is Coming," she has gone on to create two top producing gospel albums, One Nation Under God and The Life Project. Most recently, Carr has added author to already impressive résumé with book, You Will Win.
Clearly, this young woman of God is making a difference with her music, ministry and her life.
ABOUT JEKALYN CARR:
GRAMMY® nominated and Dove Award winning artist, Jekalyn Carr, has been soaring to success since the beginning of her career at the tender age of 15.
As an independent artist, Carr has garnered both national and international reach with a Billboard No. 1 Top Gospel Album, The Life Project, as well as No. 1 on Billboard Gospel Airplay chart and No. 1 on Gospel Digital Song chart for single, "You're Bigger." The song also peaked at No. 33 on the Adult R&B Radio Airplay chart.
Jekalyn's achievements have landed her collaborations with gospel legends Shirley Caesar and Dorothy Norwood and performances on GMA's Dove Awards, OWN's Greenleaf, BET's "Joyful Noise," Black Music Honors and The Triumph Awards. In addition, she was featured in a documentary, Rejoice and Shout alongside legends such as: Smokey Robinson, Andrae Crouch, and Kirk Franklin.
As compelling as she is as a vocalist, she is equally as dynamic as an evangelist. This emerging artist's national acclaim is evinced by the distinct honor of being named Jet Magazine's Top Ten Faces You Need to Know and Ebony's Power 100 list.
Jekalyn's heartfelt ministry and songs touch all genres, young and old. Her message is, "you can be successful if you believe, pursue the vision, and most of all trust God."